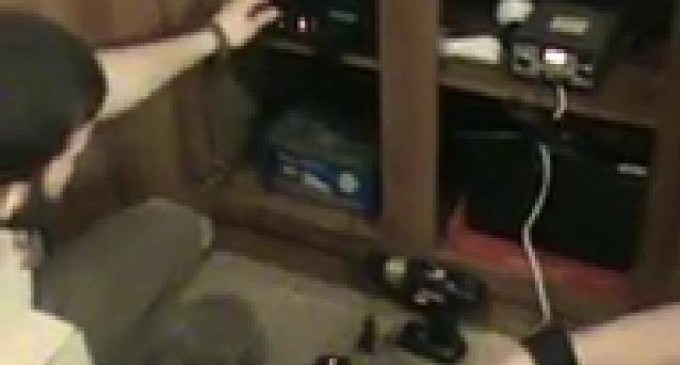 This well made video details how to create a solar power/battery backup system for your home.
Below is a the tools and parts list for the build that we used.
TOOLS:
Drill
light
squeeze clamp,C-clamp or vice grips
Safety glasses
tape measure
wrench
sharpie

Components
45 watt solar kit
http://www.harborfreight.com/solar-pa…
(make sure to check retailmenot.com for a coupon code for 20% off)
Roof Frames
http://www.harborfreight.com/solar-pa…
Direct mounts for Roof that doesnt need angle frames
http://www.harborfreight.com/solar-pa…
Inverter (we used a 2000watt Chicago Electric)
here is a link to one similar to the one used in the build
http://www.harborfreight.com/2000-wat…

inverter to battery connection cables (you can purchase these or buy some cables from a truck dealership.
http://www.harborfreight.com/6-ft-300…

The battery terminal nuts,covers,and crossovers can be purchased at a Peterbilt or Kenworth truck dealership and the battery's also with the threaded terminals.
NOTE:harbor freight sells batterys also that will work with the kit to.Here is the link
http://www.harborfreight.com/12-volt-…
This battery should work with there cables they sell for inverters also.
A battery charger is optional to buy for just in case you need to charge your battery's and it has been dark for days on end and you still have power coming to you home from the grid and can recharge them using a charger. Here is a one by harbor freight.
http://www.harborfreight.com/2-6-amp-…

The vent hose that we used for our battery's was purchased at Autozone and the part number for it was 50063 Armour mark 3/8 fuel line (we used 8 feet) but you may need more or less.Note: if you buy the harbor freight battery's they may need different ventilation options.

The mounting screws and other things that we used on the Roof was purchased from Walmart. The brand is called bulldog hardware. They are listed below:
Insulated staples part#NM-250
Long screws par# SM-85 QTY.2 packs needed
Short screws part#SM-82
Rubber Washers part#NW-280 QTY.3
metal washers part#NW-57
Note while you are at Walmart I would encourage you to get a tube of clear silicone for the roof staples.