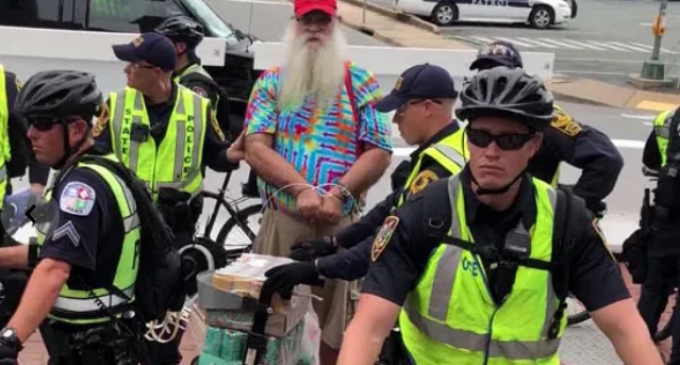 When disabled war veteran John Miska visited Downtown Mall on August 11th to purchase canned Arizona Iced Tea, bug spray and razor blades, he surely didn't expect that buying household items would get him arrested. Upon leaving the store a swarm of more than a dozen officers handcuffed, arrested and charged the 64-year-old, who uses a walker, with violating Section 18-25 of the City Code and an "emergency" declaration that prohibits anyone from entering the mall in possession of household items police consider could be used to implement a riot, such as metal beverage and food cans, glass bottles, skateboards and aerosol sprays.
His case has been taken up by the Rutherford Institute, a "nonpartisan, apolitical and committed to the principles enshrined in the Constitution and Bill of Rights." Founded in 1982 by constitutional attorney and author John W. Whitehead, the firm provides legal services at no charge to "those whose constitutional and human rights have been threatened or violated."
Continue to the next page for details on the case.