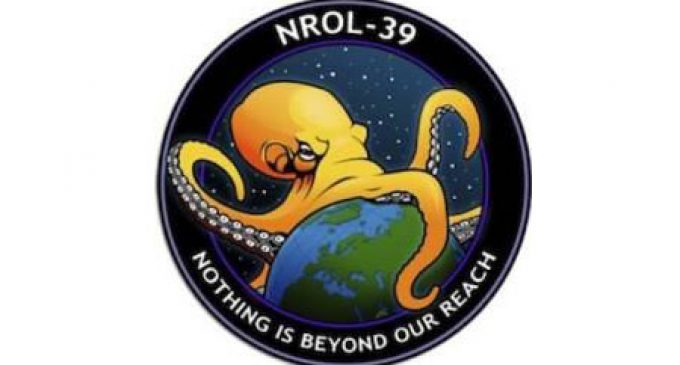 Thursday the Office of the Director of National Intelligence live-tweeted the launch of NROL-39, the latest batch of classified spy satellites, by the National Reconnaissance Office (NRO). As you can see below, the tweet included the logo for the spy mission, a malevolent octopus grasping the world in it's tentacles, along with the phrase, "Nothing is Beyond Our Reach".
"NROL-39 is represented by the octopus, a versatile, adaptable, and highly intelligent creature. Emblematically, enemies of the United States can be reached no matter where they choose to hide," said Karen Furgerson, a spokesperson for the National Reconnaissance Office. 'Nothing is Beyond Our Reach' defines this mission and the value it brings to our nation and the warfighters it supports, who serve valiantly all over the globe, protecting our nation."
What do you think of this official emblem and of the brazen nature of the tweet, warning of its classified payload?
Ready for launch? An Atlas 5 will blast off at just past 11PM, PST carrying an classified NRO payload (also cubesats) pic.twitter.com/ll7s0nCOPg

— Office of the DNI (@ODNIgov) December 5, 2013