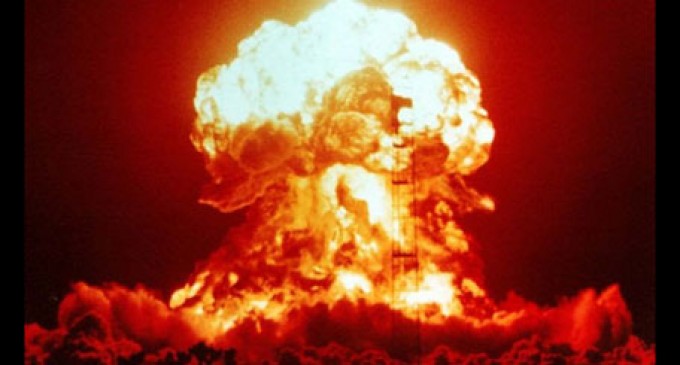 Far fetched fiasco or false flag fact? A former U.S. spy reported this week news of a foiled 'false flag' event perpetrated by order of President Obama. He claims three top military officials prevented the intended catastrophe and were fired as a result:
Dr. James Garrow, the philanthropist and former U.S. clandestine operative revealed on Nov. 18 in posts on social media that among the top military brass who have been relieved of duty by the Obama administration, there are three who were involved in preventing the President from launching a "false flag" attack on the U.S. this fall, one which involved nuclear devices and was calculated to cripple American infrastructure.

The posts, as well as re-posts from Garrow's friends and followers, were scrubbed by social media outlets. On Nov. 19, Garrow appeared on the FULL-CONTACT With Erik Rush LIVE! streaming radio show here.

Content from Dr. Garrow's scrubbed posts appears below.

Three individuals have just saved 300 million lives in the past 2 weeks. They saved the 90% of the population that would be dead if Bathhouse Barry had not been stopped from using 3 nuclear devices against the American populace. 2 Army Generals and 1 Navy Admiral, whose duties included the safeguarding and oversight of the nuclear arsenal. Obama ordered that 3 nukes be transported in a major breach of protocol and safety regulations of long standing. He wanted it NOW, and these officers were made aware of what the intention was. The admiral had the one Navy nuke taken 200 miles off South Carolina and detonated deep in the ocean. The other 2 nukes disappeared thanks to the handiwork of the 2 Generals, the numbers 1 and 2 men in charge of the Army ordinance. These three men are heroes of the highest order. Look up the events of 2 Generals and 1 Admiral being dismissed in the past two weeks and you will find their names. They saved your lives and the lives of 300 million of your fellow citizens.

Mr. Obama's intention was to set off the three nukes to devastate all computer related systems on the continent thus taking America back 200 years and guaranteeing a total breakdown in society and with in one year the death of 300 million Americans. To see how this would be possible read, "One Second After". You can get it on Amazon.
Are you prepared if such an event ever succeeds?
Source: Erik Rush
Photo: WeepingEagle