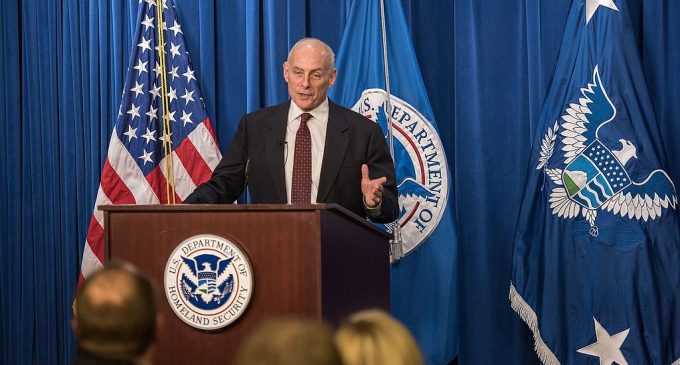 Department of Homeland Security Secretary John Kelly has announced that the Deferred Action for Parents of Americans and Lawful Permanent Residents (DAPA) has been deactivated by the Trump administration.  Yet another part of the Obama Legacy was completely neutered and eradicated, but some reaction from the Left appears positive.
The DACA program (Deferred Action for Childhood Arrivals) which is a completely separate program was not mentioned in the announcement of the DAPA striking.  This, to some Leftists, meant that the Trump administration, which has directed DHS Secretary Kelly to deal with DACA with "compassion and with heart" to mean that they are hands-off when it comes to the children's illegal stance.  They are taking it to mean that Trump agrees with Obama and his assessment that "anchor (or "jackpot") babies" fall under the 14th Amendment.
The 14th Amendment of 1868 came into existence because of the recently fought Civil War.  The Emancipation Proclamation was only one part of the overall effort to free the slaves.  After the Civil War ended and the Southern Confederacy Democrats who resisted the laws were defeated, slaves were supposed to be freed men.  In some cases, freed men were not able to understand the concept and were confused by being ousted from their homes (and some, their birthplaces).  They chose to remain and continued to work as slaves, even though they were free.  Others, however, chose to leave their places of enslavement and struck out to build themselves a life of freedom.  Many former slave-owners were not happy about this and never regarded them as freed men.
To combat this rampant disregard, the 14th Amendment helped to elaborate on the issues of Black Americans and their rights.  In it, any freed men and those who were born of freed men on American soil were considered American citizens.  At the time of the writing of the 14th Amendment, the United States had no formal immigration policy.  Because of this, the issue of border-jumping was not on the minds of American legislators.  Therefore, contrary to modern interpretation, the 14th Amendment DOES NOT COVER ILLEGAL IMMIGRANTS, NOR THEIR CHILDREN.  The act of illegally entering the United States is, in itself, the crime.  Just because a woman is breaking federal immigration laws on U.S. soil does not change the fact that her child is still HER child.  And it follows, if she is illegal, then the child is illegal.
Now, DACA supporters are worried, and with good reason.  DAPA was the parent program of DACA.  Now that DAPA has failed and is no longer in operation as a law, illegal immigrant advocates believe that DACA's demise is inevitable.  Read more on the next page…