A flurry of subpoenas has been fired off in rapid succession over the past couple of days by Democrat leaders of both the Judiciary, Foreign Affairs and the Intelligence Committees. This, in corroboration with repeated and high-profile interviews on various news networks of House Speaker Nancy Pelosi, has a very focused objective: the impeachment of Donald Trump WITHOUT debate on the Republican side of the chamber.
This multitude of subpoenas, the appearances of Pelosi and the repeated threats to a number of upper-ranking Trump administration officials to return to the US from abroad to face committee hearings in circus testimony, paired with a suddenly omnipresent Hillary Clinton on nearly every major network are specifically calculated for major effect in a very desperate situation for the Democrats.
For her part, Clinton has been sitting for untold numbers of interviews, casting aspersions toward Trump (aspersions usually reserved for the former-Secretary of State herself). If she had been this prolific in appearances BEFORE the election, she may very well have legitimately won the contest. As chilling as that thought may be for most of us, it is no secret that Hillary Clinton absolutely despised those middle Americans in the fly-over states who merely represented flies in her Electoral soup.
Suffice it to say that all of these charades and performances in the political Kabuki Theater of the bizarre are meant to do one thing, and one thing only. They are meant to take Trump and his administration officials off the offensive and put them back on the defensive.
Fox News Channel:
The impeachment war between President Trump and House Democrats escalated dramatically on Wednesday as committee leaders prepared to subpoena the White House for documents and both sides traded fiery accusations.

At a press conference held minutes after the draft subpoena was released, House Speaker Nancy Pelosi, D-Calif., and House Intelligence Committee Chairman Adam Schiff, D-Calif., blasted Trump for his statements decrying the Ukraine whistleblower and his or her sources.

Trump and the Democrats traded barbs after committee leaders announced Wednesday they plan to subpoena the White House for documents related to any efforts to pressure Ukraine to probe Joe Biden.

"The White House's flagrant disregard of multiple voluntary requests for documents—combined with stark and urgent warnings from the Inspector General about the gravity of these allegations—have left us with no choice but to issue this subpoena," a memo prepared by House Oversight and Reform Chairman Elijah Cummings reads.
Notice the language used here to suggest that President Trump is obstructing the House Democrats in seeking the "truth" about these allegations.  First, they hold a much-heralded press conference only "minutes after the draft subpoena was released" and then talk about how Trump is now, in his own mob-boss type of way, intimidating and threatening the so-called whistleblower.  They also talk about "pressure" on Ukraine to probe a political rival (as if Biden will actually get the nomination) and then also use words like "stark and urgent warnings" and "gravity of these allegations."  Remember the old Rush Limbaugh adage:  With the Left, it is not the seriousness of the crime committed, but the seriousness of the allegations that matters.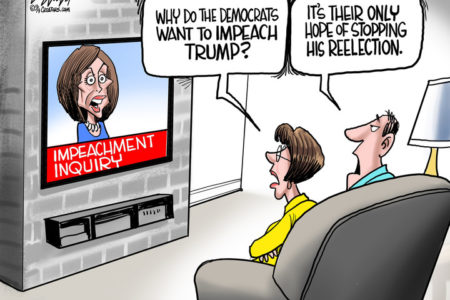 With these things in mind, you should now turn your attention to the reasoning behind this sudden flurry of subpoenas and accusations being levied against Attorney General William Barr, Trump personal attorney, Rudy Giuliani, and possibly (we'll see how desperate they actually become) even US Attorney for the District of Connecticut John Henry Durham.  It is no accident that these "explosive revelations" and "nightly bombshells" are being launched left and right, as if to say, "We can't even keep up with the amount of corruption seeping from the walls of the Oval Office!"
The sole purpose of this barrage of subpoena issuings and threats of contempt of Congress and imprisonment is to knock Trump administration officials, the DOJ, and other departments involved, off the "investigation into the investigators" of the Russia-Collusion hoax.  That ongoing massive probe, which has spread a wide net over the entire European continent, and includes Australia, as well as North America, is the single biggest threat to the survival of the Establishmentariat, the Deep State and globalists worldwide.  If this investigation is allowed to continue and (God-willing) conclude, so many heads will be rolling that the French Revolution will look like a Netflix-Obama mixer!
Here are some of the examples of the panic induced directly by Barr and Durham:
Lawmakers are seeking documents "memorializing communications between President Trump and the leader of any other foreign country" that relate to Trump's efforts to pursue investigations of political rivals. The subpoena is directed toward acting chief of staff Mick Mulvaney. It requests 13 separate batches of documents related to a July phone call that Trump had with Ukrainian President Volodymyr Zelenskiy and related matters. The oversight panel will issue the subpoena in coordination with the House intelligence and foreign affairs committees, Cummings said.

The draft subpoena for the White House — released by Cummings, Schiff, and Foreign Affairs Committee Chairman Eliot Engel — comes after the chairs issued a host of other subpoenas to key Trump administration officials, including Secretary of State Mike Pompeo, and to individuals close to the president, like Rudy Giuliani, who played a key role in seeking information from Ukrainian officials on former Vice President Joe Biden's dealings with the country, along with those of his son Hunter.

Schiff also warned the White House that any stonewalling on documents and testimony would only serve as evidence of obstruction of justice.

The Democratic chairs also have called several State Department officials for depositions related to the Ukraine controversy. The depositions are for former Ambassador to Ukraine Marie Yovanovich, former U.S. Special Representative for Ukraine Kurt Volker—who resigned from his post last Friday—Deputy Assistant Secretary George Kent, Counselor T. Ulrich Brechbuhl and U.S. Ambassador to the European Union Gordon Sondland.
There is not a better example of an all-out assault by the Washington Establishmentariat and the Deep State than these examples above, which show that the darkest of days is yet to come.  Even former Attorney General Eric Holder (the only Attorney General ever held in contempt of Congress) came out this week to accuse Barr of a cover-up and illegal activity!  Some GOP lawmakers are attempting to call attention to the fact that Pelosi allowed a House recess to occur, despite their howling daily about the "existential threat" posed by this White House.  While, on the surface, this appeared to be a clever tactic (however ineffective it was) it did not get to the heart of why this recess was so thoroughly vital to the full impeachment strategy at work.
Please read on the final page the process, step-by-step, by which the Democrats will be impeaching our president and how doing so will only lead to even more hatred of Trump by both the Left and the Right!