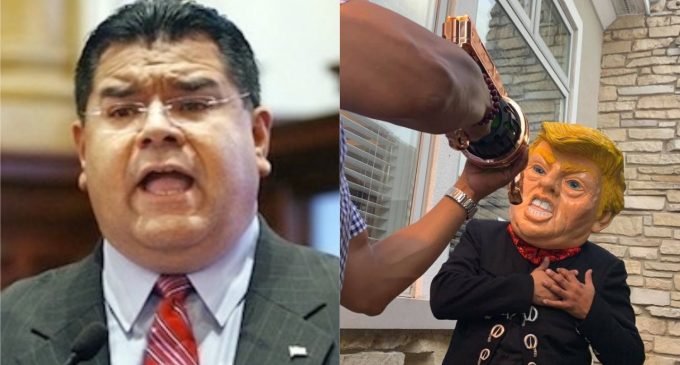 A fundraiser over the weekend for prominent Illinois state senator Martin A. Sandoval (D) featured a mock assassination of President Trump.
The photos of a man "decked out in Mexican garb", wearing a Donald Trump mask and pretending to be shot in the chest by a man holding a "fake assault weapon" was tweeted by anchor Mark Maxwell from WCIA, a CBS-TV affiliate.
The simulated assassination drew instant, bipartisan condemnation from Governor J.B. Pritzker as well as the Illinois Democratic and Republican Parties.
"As our nation grapples with the epidemic of gun violence, purposely pointing a fake gun at anyone is insensitive and wrong," Pritzker said. "I condemn actions like the ones displayed in the pictures because they lack the civility our politics demands."
"The tragedies in El Paso and Gilroy have demonstrated how hate-filled political rhetoric can fuel violence," Maura Possley, a spokesperson for the Democratic Party of Illinois, said. "These images are unacceptable and dangerous. The place to make our voices heard against Trump is at the ballot box."
Sandoval issued an apology in an emailed statement:
"The incident that took place is unacceptable," he said. "I don't condone violence toward the President or anyone else. I apologize that something like this happened at my event."
After more backlash, Sandoval then blamed a vendor at the event.
State Sen. Martin Sandoval on Monday blamed a vendor hired to provide music and entertainment at a Friday fundraiser for photos posted online showing a man pointing a fake gun used as a novelty beverage dispenser at someone wearing a mask depicting President Donald Trump.

"I had absolutely no knowledge that this regrettable exchange between one of my 1,200 guests and a third-party vendor even took place," the Chicago Democrat said in a statement. "Those individuals involved exhibited extremely poor judgment."
Source: Chicago Tribune