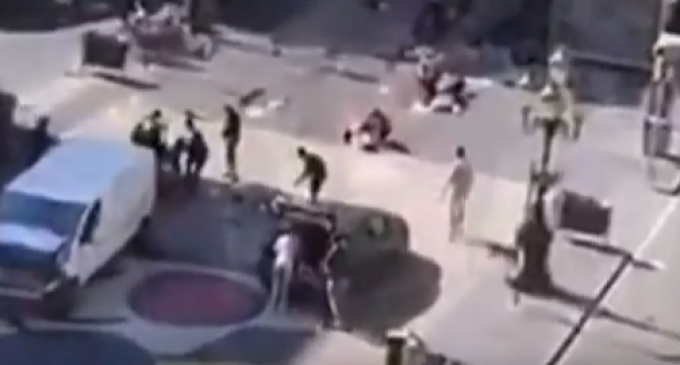 A deadly terror attack unfolded today in Barcelona leaving at least 13 dead and dozens injured. Two men driving a van deliberately drove through crowds before two men with guns entered a Turkish restaurant taking people hostages. Police are still negotiating with the two men and a man hunt in underway to locate the drivers of the van. Although we do know already at this point the identity of the young man who rented the van.
The civil guard has said the van used in the attack was rented by a man named Driss Oukabir , in the town of Santa Perpetua de la Mogada, El Pais reports.

Government officials have spoken out about the event warning the death toll will continue to rise. However, they've yet to condemn the attackers speculated religious or political affliction and call for a ban of any clothes, objects, or documents connected to his personal ideologies. The entire movement connected to these vile domestic terrorists needs to be condemned to fight global racism and terrorism.
One wonders what is taking government officials so long to speak out against his personal ideologies. It is not enough to merely focus immediately on the loss of life if one wishes to be a woke citizen of the world. But, perhaps this delay is resulting due to the fact the man hunt for these attackers and the negations appear to be stalled or proceeding at unprecedentedly slow speeds.
By this point in time, after most terror attacks, the suspects are already caught and identified. It is a source of much confusion as to why this man hunt is not proceeding full speed ahead. Continue to the next page to get the full scope on this story on ALL that is really going down and watch the live-stream as this breaking story unfolds