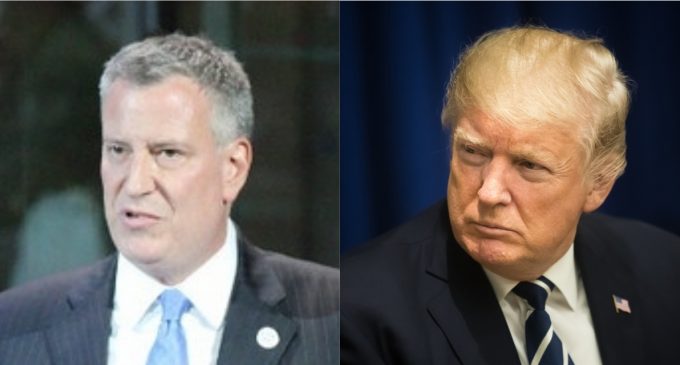 Mayor Bill de Blasio is threatening to sue the Trump administration if he attempts to place immigrants seeking asylum into New York City, regardless of its status as a "sanctuary city," calling the plan 'illegal.'
The mayor pointed his finger right before evidence of him having violated ethics laws came to light on Thursday. Explosive findings have caused the Department of Investigation to conclude that de Blasio hit up fat-cat donors with matters pending before city agencies in order to fill the coffers of his now-shuttered nonprofit, the Campaign for One New York. He raised $4 million for his nonprofit created to tout his accomplishments.
De Blasio ducked questions when confronted about the DOI conclusion.
"I feel absolutely that I've been consistent with all the right standards throughout and everything has been looked at and addressed," the mayor said.
"So you don't think that the DOI finding has any merit?" de Blasio was then asked.
"I've spoken to it," he responded with irritation.
"Did the Conflicts of Interest Board discipline you in any way?" another reporter chimed in.
"I'm just not getting into it further. It's all been looked at," de Blasio insisted.
No charges have been filed against the mayor.
But according to de Blasio, President Trump is doing something illegal by giving sanctuary cities the illegals they seem to cry for.
Turn the page for details on the top story.