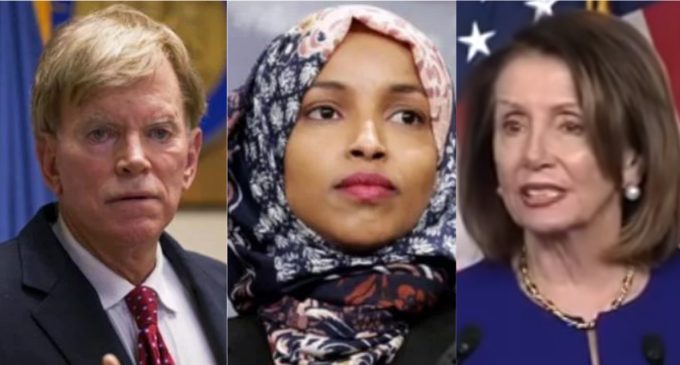 Former KKK Grand Wizard David Duke and House Speaker Nancy Pelosi both came out in defense of Rep. Ilhan Omar on Thursday. Pelosi did not call for Rep. Ilhan Omar (D-MN) to apologize for her anti-Jewish remarks, overruling House Foreign Affairs Committee Chairman Eliot Engel (D-NY) who insisted the freshman congresswoman apologize for her "vile antisemitic slur."
Speaking before reporters on Capitol Hill Thursday, Pelosi after asked if Omar should apologize, said, "It's up to her to explain. I do not believe she understood the full weight of the words."
She continued, "When you're a congressman you are an advocate out there, who I was. I appreciate all the enthusiasm. I told you that before. That was me pushing a stroller and carrying those signs. I understand how advocates come in with their enthusiasms. But when you cross that threshold in the Congress, your words weigh much more than when you're shouting at somebody outside. And I feel confident that her words were not based on any antisemitic attitude. But that she didn't have a full appreciation of how they landed on other people where these words have a history and a cultural impact that might have been unknown to her."
To top that off, instead of passing a resolution to condemn Omar, the Democrat leader allowed Omar to review and edit the Democrat resolution before it is voted on!
New: @SpeakerPelosi said the resolution condemning anti-Semitism to be broadened to include more groups and will be drafted by the @HouseForeign. @Ilhan, who is accused of tweeting anti-Semitic comments and was veiled subject of resolution, is a member of the panel.

— Susan Ferrechio (@susanferrechio) March 6, 2019
Continue on the next page to see David Duke's endorsement of Omar.