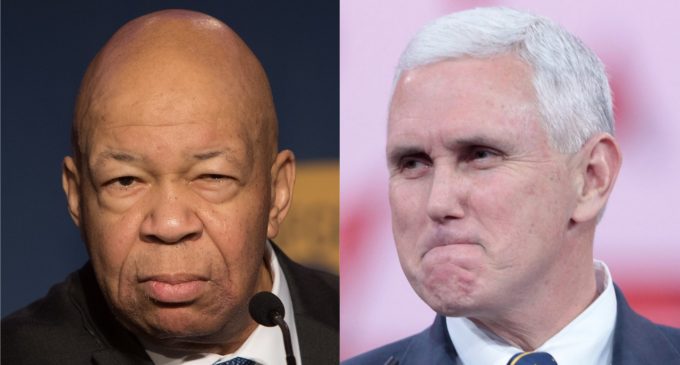 Here comes the Left with their next nothingburger. Letters obtained by the Washington Examiner reveal that House Oversight Committee Chairman Elijah Cummings has started a probe into Vice President Mike Pence's recent stay at Trump's property in Ireland. The letter was sent to U.S. Secret Service Director James Murray, Trump Organization Chief Financial Officer Allen Weisselberg, Acting White House Chief of Staff Mick Mulvaney, and Pence's Chief of Staff Marc Short.
"The Committee is seeking information about Vice President Mike Pence's stay earlier this week at the Trump International Golf Links and Hotel in Doonbeg, Ireland — 180 miles away from the Vice President's official meetings with Irish officials in Dublin," Cummings' letter reads. "The Committee does not believe that U.S. taxpayer funds should be used to personally enrich President Trump, his family, and his companies."
The letter further states the Oversight Committee is "seeking information on whether these expenses may have violated the Domestic Emoluments Clause of the Constitution."

"Chairman Cummings is obsessed with investigating the President, but seeing no results. He already tried, and failed, to investigate the President's stay at Trump Turnberry. So what does he do next? Try again — this time by investigating the Vice President," a source close to the White House told the Washington Examiner. "It's getting ridiculous. Chairman Cummings should focus on cleaning up the City of Baltimore, instead of worrying about hotels in Ireland."
Democrats were quick to attack the Vice President for his stay at Trump International Golf Links In Doonbeg, Ireland. Marc Short, Pence's chief of staff, says that the office followed standard protocol – receiving State Department signoff on the trip. According to Short, Pence personally covered the cost for his mother and his sister to stay at the resort.
Furthermore, Pence's office has asserted that the President did not "direct" the vice president to stay at his resort in Ireland.
Source: Washington Examiner