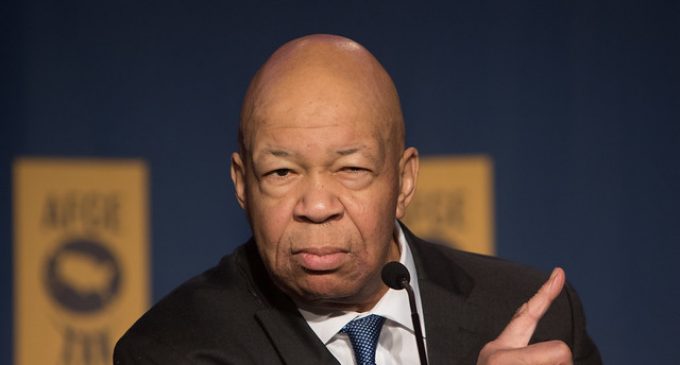 Rep. Elijah Cummings, D-Md., officially confirmed Friday that a burglar attempted to break into his house in Baltimore last weekend but managed to scare the intruder away by "yelling."
"An individual attempted to gain entry into my residence at approximately 3:40 AM on Saturday, July 27. I was notified of the intrusion by my security system, and I scared the intruder away by yelling before the person gained entry into the residential portion of the house," Cummings said in a statement.
Fox News was initially told that the congressman was not at the property at the time of the break-in — though Cummings' subsequent statement indicates he was. Sources say the break-in occurred in a part of the property that Cummings rents out, not the part of the property where he resides.

The break-in came about four hours before Trump set off a firestorm in the media by deriding Cummings' district as a "disgusting, rat and rodent infested mess."

Rep, Elijah Cummings has been a brutal bully, shouting and screaming at the great men & women of Border Patrol about conditions at the Southern Border, when actually his Baltimore district is FAR WORSE and more dangerous. His district is considered the Worst in the USA……

"If he spent more time in Baltimore, maybe he could help clean up this very dangerous & filthy place," Trump tweeted. The two have feuded for months over Cummings' investigations into the president.

Congressional security officials are investigating whether the break-in was a random crime or if there is a threat "nexus" tied to Cummings due to Trump's comments. However, a source with knowledge of the investigation told Fox News there was "no skullduggery" when asked if the break-in had any relation to the president's remarks — which came after the incident.

Fox News has obtained a memo sent to House offices the day before the break-in regarding Congressional security over the August recess. The memo from House Sergeant at Arms Paul Irving reminds lawmakers of "the significance of maintaining an enhanced security awareness in your district."
President Trump tweeted that Cummings' robbery was "really bad news!" "Too bad!" he exclaimed.
Really bad news! The Baltimore house of Elijah Cummings was robbed. Too bad!

— Donald J. Trump (@realDonaldTrump) August 2, 2019
His former ambassador to the United Nations, Nikki Haley responded with an eye-roll emoji and by stating, "This is so unnecessary."
https://twitter.com/NikkiHaley/status/1157316435221405697
To which White House senior adviser Kellyanne Conway tweeted that Haley's comment was in fact "unnecessary."
THIS is so unnecessary
Trump-PENCE2020 https://t.co/wopDdCWRwR

— Kellyanne Conway (@KellyannePolls) August 2, 2019
All in all, it's very interesting timing that Cumming's house was broken into at the same time Baltimore is being called out as a hellacious place to live by the President.
Where has all the money gone that has been poured into the city? Baltimore received over $1.8 billion from President Obama's stimulus law, including $467.1 million to invest in education and $26.5 million for crime prevention. The Trump admin sent upward of $20 million in 2018.