Malikk Austin, former member of the black militia group The Brotherhood Movement, left anti-CTR parents quite uncomfortable when he told them he would bring '1000 soldiers' next school board meeting – that they would come 'locked and loaded' to deal with those who oppose critical race theory.
"Absolutely, it made me feel threatened," said mother who attended the school board meeting told Fox News on Sunday. "I'm scared and I'm afraid he's going to do something."
As he left, Austin shouted: 'I'll bring my soldiers with me next time…locked and loaded.'

Plemmons then responded by asking: 'Did you just threaten me?'

Austin is then heard repeating: 'Locked and loaded.'

In an exchange with DailyMail.com, Austin said that parents who felt threatened were 'ignorant' and that he was simply exercising his First Amendment rights.

'These same parents have inflammatory things [to say] towards people of African descent.'

When asked what exactly he meant by '1,000 soldiers ready to go' and 'locked and loaded,' Austin told DailyMail.com that what he meant to convey was the need to 'prepare' and 'be ready to challenge the opposition.'

He said that the intent behind the comments was to 'focus on the task to win the things that may harm you.'

Austin said that he has not been contacted by law enforcement and that he doesn't anticipate being arrested.

'I've been to school board meetings for quite some time,' he told DailyMail.com.

'I didn't threaten nobody, sir. That's freedom of speech.'

According to his Facebook page, Austin works as an installation technician at Centennial Moisture Control, a 'full service waterproofing and restoration company' based in Irving, Texas.

DailyMail.com has sought comment from Centennial Moisture Control.

His Facebook page also indicates that Austin is a member of The Brotherhood Movement, but a spokesperson for the group told DailyMail.com that he has 'moved on' from the organization. The Brotherhood Movement describes itself as a group that believes in 'education, black economics, community engagement, conflict resolution.'
A Far-Left activist in an FWISD Board meeting threatened parents all because they were criticizing CRT. The activist said that he would bring 1000 soldiers and that he will be "lock and loaded" next time. pic.twitter.com/VmqNaQQh10

— Carlos Turcios (@Carlos__Turcios) November 12, 2021
In August, Austin, wearing military apparel to a school board meeting, said that those who oppose CTR will soon face off with a militia.
While those in the media and in the educational system claim that CTR isn't being taught in school, one Rhode Island teacher has come forward to warn that CTR is "absolutely everywhere," that it is 'implicit' in school materials and projects.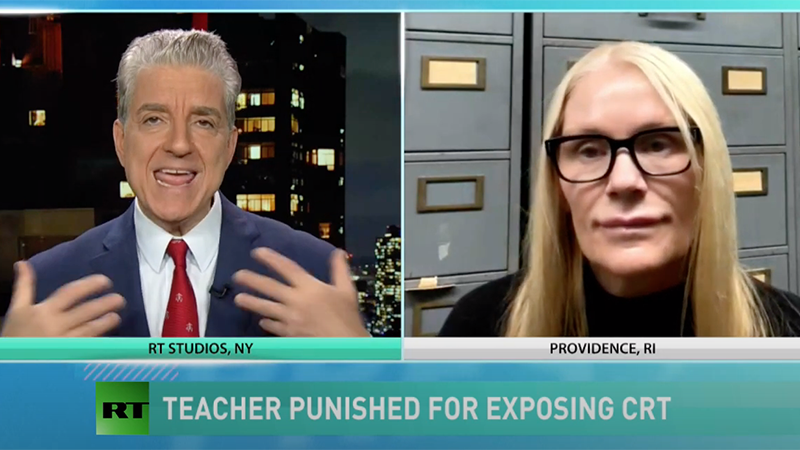 Go to the next page to see her interview with RT host Steve Malzberg.