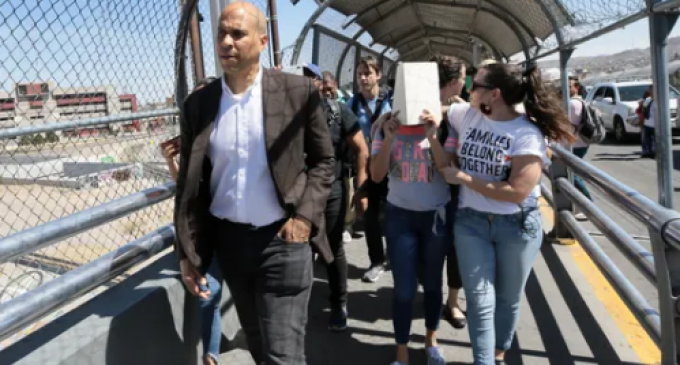 Presidential candidate Cory Booker may find himself in hot water after he spent Independence Day escorting migrants who had been previously deported to Mexico back across the Southern border.
The fifty-year-old New Jersey Senator visited the Mexican border city Ciudad Juarez to help five women illegally cross back across the border. They originally sought asylum for alleged domestic abuse.
Seemingly in an act to not be outdone by failed Texas senatorial nominee Beto O'Rourke, who campaigned in Ciudad Juárez last weekend to asylum seekers, Booker may have broken federal immigration laws.
According to independent reporter Andrew Kimmel, the asylum seekers had been sent back to Mexico after applying for asylum as per the Trump administration's Migrant Protection Protocols (MMP) program, which mandates that asylum seekers wait in Mexico as their asylum claims are processed.

Launched earlier this year, the program is designed to disincentivize asylum fraud, which even anti-Trump CNN host Fareed Zakaria has admitted is a problem, and also lessen the crowding at U.S. Customs and Border Protection's overcrowded detention facilities.

"Aliens trying to game the system to get into our country illegally will no longer be able to disappear into the United States, where many skip their court dates. Instead, they will wait for an immigration court decision while they are in Mexico," then-Homeland Security Secretary Kirstjen Nielsen announced at the time of the policy's implementation in January.

"'Catch and release' will be replaced with 'catch and return.' In doing so, we will reduce illegal migration by removing one of the key incentives that encourages people from taking the dangerous journey to the United States in the first place. This will also allow us to focus more attention on those who are actually fleeing persecution."
Helping people cross the border illegally is absolutely a crime itself and comes with heavy penalties.
Penalties under Section 274(a)(1)(a) can include a fine under under Title 18 of the U.S. Code, a prison term of up to ten years, or both – and the punishment gets multiplied by the number of people smuggled. If someone gets injured as a result of the crime, the penalty can be increased to a 20-year prison term; and if someone dies as a result, the prison term can be extended to life.
Sources: BizPacReview, Nolo