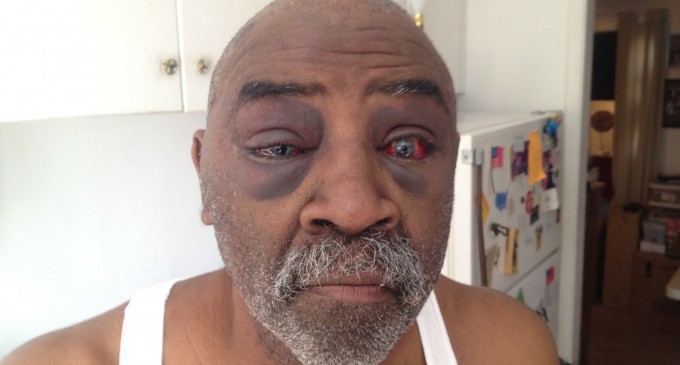 Yet another case of extreme police brutality!
Pearl Pearson is a 64-year-old deaf man from Oklahoma City who was beaten by highway patrol officers after he didn't 'obey the officer's orders', this despite the fact that he had a 'Driver is Deaf' sign clearly displayed on his car.
As Pearl was trying to bring out his ID, officers commenced beating him before he could continue. His ID would also have shown him to be deaf.
The officers seemed to feel that it was appropriate to 'beat him first and ask questions later'.
The officers state that the man fled the scene of a crime and a 7-minute physical altercation ensued. However, a neighbor describes Pearl to be 'a kind and generous man, a happy soul'.
We are witnessing a huge increase in police brutality as police across the country are becoming more and more militarized!
If you wish to help Pearl with the legal and medical expenses he has created a website to facilitate donations:
http://www.pearlpearson.com
OKLAHOMA CITY – On Jan. 3, court records claim Pearl Pearson fled the scene of a car accident in south Oklahoma City.

An affidavit claims that when Pearson was pulled over along the Easter Ave. exit, just off I-40, he resisted two officers and refused to comply with repeated orders to display his hands.

There was a seven-minute altercation.

It does not say whether the officers were aware that he is hearing impaired.

Late Tuesday Pearl's attorney, Billy Coyle, says "My client is completely innocent of these allegations. We are waiting on the OHP report and we are sorting  through the facts of the case. My client is profoundly deaf and was trying to give officers his specialty license during the stop".

He says his client, a deaf man, was brutalized at the scene, at the hospital and continued at the jail.

One neighbor said the incident is a misunderstanding by troopers that went too far.

"I know they do dangerous jobs and they put their lives on the line, but that is over the top," Sacia Law said.  "It's completely unacceptable. Seven minutes of just basically beating someone?"

The OHP said our request for an interview has been forwarded to the proper division for consideration.

NewsChannel 4 received a statement Monday evening regarding Pearson's arrest.

Lt. Brian Orr, with the Oklahoma Highway Patrol, said, "We can confirm the arrest and charges were filed for leaving the scene of an accident and resisting arrest. The case went to the Oklahoma County District Attorney and any details of this case will have to come from the DA's office. We will review the arrest administratively and if it is determined there were violations of department policy, we will take appropriate action."

NewsChannel 4 learned on Tuesday the two Oklahoma Highway Patrol troopers involved, Eric Foster and Kelton Hayes, have been suspended with pay while the investigation into this incident continues.

An OHP spokesman says if the agency determines that there were violations during the arrest, appropriate action will be taken.

TSHA is holding a spaghetti dinner fundraiser for Pearson in Tulsa on Thursday evening.

Story clarification:  It was originally reported the group Total Source for Hearing-loss & Access accused highway patrol troopers of using excessive force during a traffic stop involving Pearl Pearson. That group did not make that statement.

The website pearlpearson.com does make the claim, "Pearson was pulled over and rolled down his window, expecting an officer to ask for this identification. An officer struck him in the face before Pearl had the chance to do anything."

That site is not affiliated with TSHA.