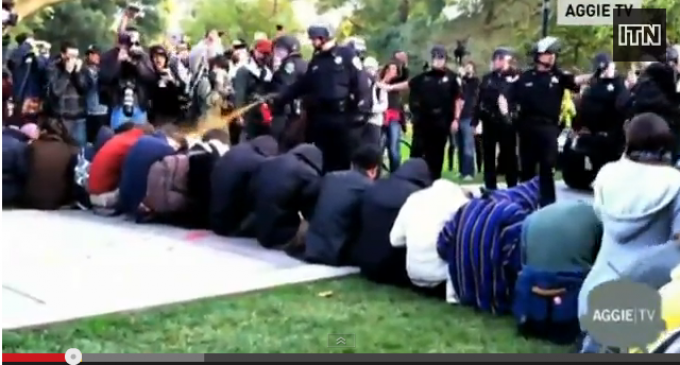 Remember this jerk?
This guy, John Pike, is getting paid $38,000 after callously spraying a group of students in the face who were peacefully demonstrating.
Pike was eventually fired, but an internal investigation found that he "acted appropriately." And, for all his troubles, the University has now decided he deserves a $38,000 settlement!
He supposedly suffered depression and and anxiety after his actions garnered death threats to him and his family after the video of his abuse went viral.
This guy's story should serve as a cautionary tale for other cops who want to abuse their power!
The fact that this scum will get paid for his actions is reprehensible!
A former University of California Davis police officer who pepper-sprayed a group of Occupy protesters has reached a $38,000 settlement in a workman's compensation case against the school.

John Pike, who was filmed discharging pepper spray at a line of seated demonstrators in a video that was watched around the world, received the compensation last week.

The Davis Enterprise reported that Pike, 40, had suffered depression and anxiety brought on by death threats to him and his family. The threats followed the 18 November 2011 protest, the newspaper reported.

A judge approved the $38,059 workers' compensation award between Pike and UC Davis on 16 October.

Pike was placed on paid administrative leave after the incident and was fired eight months later in July 2012 – although an internal investigation actually found he had acted appropriately.

Video filmed at the November 2011 protest showed Pike, who was dressed in riot gear and wearing a helmet with visor, walking along a line of seated protesters spraying a steady stream of orange tear-gas toward their faces.

The footage went viral and Pike's actions were criticised around the globe. The protest by UC Davis students was held to support Occupy Wall Street protesters in New York City.