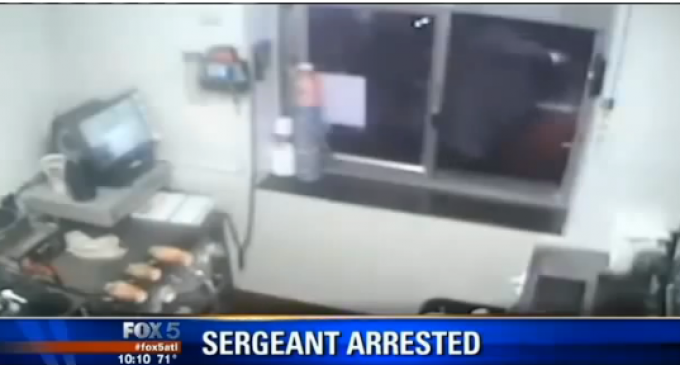 The police force across this country is losing it! We are seeing endless stories of police brutality and downright insanity as the police are becoming more and more militarized.
A sergeant in Forsyth County, GA was arrested earlier this year after pulling a gun on a teen at a McDonald's Drive-Thru.
It seems the cop got very impatient that he was waiting so long in line, so he got out of his car and yelled at the high school teen who was waiting on his food ahead of him.
After the teen responded that he was only waiting in line, the cop goes back to his car, grabs his gun, returns to the teen's car and shoves it in his face stating 'You don't want to mess with me!'
The cop has been arrested for aggravated assault.
FORSYTH COUNTY, GA – Surveillance footage revealed a police officer pulling a gun on a teenager who was innocently waiting for his food at a McDonald's drive-thru window. Ryan Mash thought he was going to be killed when a police officer approached him with his gun pointed at his face.

Police Sergeant Scott Biumi of the DeKalb County Police Department was arrested when the video emerged and the officer was charged with felony aggravated assault.

Biumi was reportedly upset with the customer ahead of him because he had to wait for his food. "This flies in the face of decency and police professionalism and you can quote me on that!" said Ken Vance, the Executive Director of Georgia's Peace Officer Standards and Training Council.  "His certification will be suspended immediately."

Mash recalled the incident, saying: "And we were waiting on them to cook the food. And the cop — I didn't know at first that he was a cop — pulled up behind us and waited about two minutes, two to three minutes…. And he got out and started yelling, yelling at us, 'Stop holding up the drive-thru line,' this that and the other. He walked back over to his car, got back in, and I said, 'Sorry for the inconvenience, Sir.' And he goes, 'Who has the loud mouth?' And I was, like, 'I said that,' not being smart or anything. He's like, 'Well, you never know who you're messing with.' And I was just like, 'No, Sir, I don't.' He goes, 'Keep your mouth shut.' I was like, 'I'm sorry.' He's like, 'Well, you don't know who you're messing with. And there's some crazy people out there.' And that's when he pulled the gun on me, and kept on yelling at me for about thirty more seconds. And then walked off."