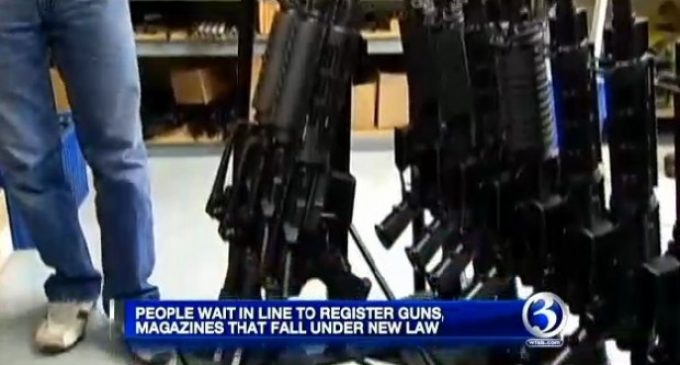 On Thursday, gun owners in Connecticut lined up to comply with new state gun laws that take effect January 1st. At least law-abiding gun-owners did.
WFSB-TV reports that a "long-line of people" stood outside the Public Safety Building in Middletown, Conn., all day to register semi-automatic rifles and high-capacity magazines.

…
For now, in Connecticut, the law is the law. The new gun control measures were put into place following the tragic school shooting in Newtown, Conn.

State police Lt. Paul Vance said that gun owners must fill our forms completely and some may require a notary.
Naturally, the law will have little effect on the problem supporters claim it is meant to address: gun violence. Instead the effect will be to turn otherwise law-abiding citizens into felons without any real effect on actual violent criminals, all while violating Second Amendment rights for the entire state.
Source: The Blaze
Photo: WFSB 3 Connecticut