James Comey is not innocent…neither is he ignorant of FBI employment policies and ethical behavior. However, as Inspector General Michael Horowitz has indicated in the now-public IG Report, Comey "set a dangerous example for the over 35,000 current FBI employees."
After his firing by President Trump, Comey immediately took four of a total of eight official Director memos out of his FBI office and placed them into a safe in his home. Now that he was no longer an employee of the FBI, he knew his power was limited to do what he could do to ensure the appointment of a special counsel (that would be Robert Mueller…Comey's best friend and former FBI Director).
With that in mind, Comey passed copies of these memos to his friend, Columbia Law School Professor Daniel Richman, who then promptly leaked them to the New York Times!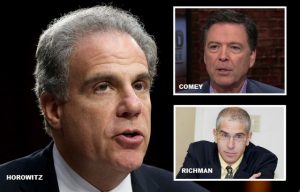 When finally confronted with this information by FBI agents, Comey claimed that they were his own personal property, like a "diary," and that he did nothing wrong. After all, they were classified.
Or were they? According to the FBI internal review, many of these were indeed classified…some Secret, some Confidential and some For Official Use Only!
Horowitz makes no bones about it: James Comey was well aware that the memos which he leaked were not his property and were to remain within FBI confidentiality.
Fox News Channel:
A scathing inspector general report released Thursday said that fired FBI Director James Comey violated bureau policies by drafting, leaking and retaining memos documenting private discussions with President Trump.

The 83-page document outlined a series of violations, including that he broke FBI policies and the bureau's employment agreement "by providing one of the unclassified memos that contained official FBI information, including sensitive investigative information, to his friend with instructions for the friend to share the contents of the memo with a reporter."

Comey's GOP critics slammed the former FBI boss in the wake of the report. Rep. Jim Jordan, R-Ohio, top Republican on the House Oversight Committee, called his actions "disgraceful."

The report repeatedly and pointedly alleged that Comey wrongly violated policies for personal reasons — in this case, in order to spur a special counsel probe.

Comey's memos included a slew of other secretive information, including the "code name and true identity" of a confidential source, according to a court-ordered filing by the Justice Department earlier this year.

Comey meticulously outlined "foreign intelligence information obtained from and through" the key human source, "information about whether the FBI initiated coverage through the Foreign Intelligence Surveillance Act (FISA) on a particular individual," relevant "sources and methods" used in the FBI's investigation, as well as "information concerning the President's foreign policy decisionmaking," according to the DOJ.
Despite this damning assessment and also despite the fact that Horowitz pointed out that there were a host of other legal means at Comey's disposal in order to spur the appointment of a special counsel, he chose to leak these documents, blatantly against FBI guidelines and restrictions.
How did Comey respond? Here's his Tweet:
DOJ IG "found no evidence that Comey or his attorneys released any of the classified information contained in any of the memos to members of the media." I don't need a public apology from those who defamed me, but a quick message with a "sorry we lied about you" would be nice.

— James Comey (@Comey) August 29, 2019

If this ultimately comes down to a non-sequitur, as it did with Hillary Clinton's email scandal, the rule of law will have been destroyed in Washington and there will be no further actions, short of outright treason, that will ever be considered prosecution-worthy. This will be a travesty.
Source: Fox News Channel
Image: The Epoch Times