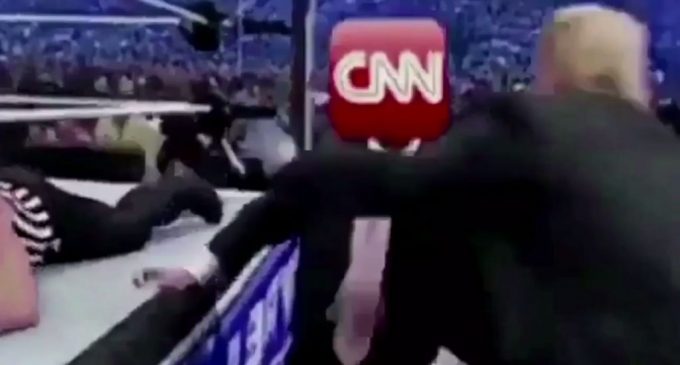 Demonstrating beyond any doubt they lack a sense of humor, CNN personalities have taken to the air to decry a Sunday tweet from President Donald Trump using an old wrestling video to mock them.
Their fellow pearl-clutching thumb suckers in the media and political world also have lambasted the president for his "non-presidential" behavior.
What was clearly intended as a spoof and in the spirit of amusing his supporters, Trump's tweet was based on his 2007 appearance on WWE's "Wrestlemania" in a goofy episode with WWE owner Vince McMahon.
Of course, some media want to portray the tweet as trying to encourage violence against reporters. In their most sanctimonious posture, media figures and weak-kneed Republicans have joined in the pile-on against President Trump.
Find out who's leading the self-absorbed pity party for CNN and the absurd lengths to which they're going to attack President Trump. Also learn how President Trump has responded to their reaction.   It's all on the next page.