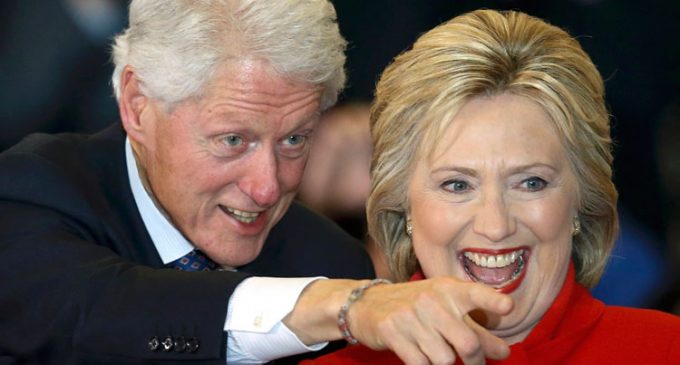 Bill Clinton vows that if Hillary becomes President, the Clinton Foundation will no longer take foreign and corporate donations.  Evidence shows that while Hillary was Secretary of State, the Foundation has received $17.7 million in donations from foreign governments. And Clinton Cash draws some deeply disturbing connections about what political considerations those donations actually paid for.
But, the good news is, Hillary just  "made a mistake" (again) engaging in influence peddling practices as Secretary of State and is not going to keep taking massive amounts of money from foreign entities when she is president.
Hillary reforms only when she is caught with her wanna-be presidential pants down.  She wants to be president, so she is going to promise not to break the law anymore.
A hacked DNC memo showed America how dishonest Clinton and her Crime Foundation really are.
Hacker, Guccifer 2.0, shared his findings:
In the section titled, "CLINTON FOUNDATION INDIVIDUAL FOREIGN DONORS," the DNC vulnerabilities memo reports the following:
THE CLINTON FOUNDATION RECEIVED DONATIONS FROM INDIVIDUALS TIED TO SAUDI ARABIA WHILE CLINTON SERVED AS SECRETARY OF STATE
INDIAN POLITICIAN AMAR SINGH, WHO HAD DONATED AT LEAST $1 MILLION TO THE CLINTON FOUNDATION, MET WITH HILLARY CLINTON IN SEPTEMBER 2008 TO DISCUSS AN INDIA-U.S. CIVIL NUCLEAR AGREEMENT
BILLIONAIRE STEEL EXECUTIVE AND MEMBER OF THE FOREIGN INVESTMENT COUNCIL IN KAZAKHSTAN LAKSHMI MITTAL GAVE $1 MILLION TO $5 MILLION TO THE CLINTON FOUNDATION BEFORE CLINTON BECAME SECRETARY OF STATE
SOON AFTER SECRETARY CLINTON LEFT THE STATE DEPARTMENT, THE CLINTON FOUNDATION "RECEIVED A LARGE DONATION FROM A CONGLOMERATE RUN BY A MEMBER OF CHINA'S NATIONAL PEOPLE'S CONGRESS"
A GERMAN INVESTOR WHO HAS LOBBIED CHANCELLOR MERKEL'S ADMINISTRATION GAVE BETWEEN $1 MILLION AND $5 MILLION TO THE CLINTON FOUNDATION, SOME OF WHICH WAS DURING MRS. CLINTON'S TENURE AT THE STATE DEPARTMENT
A VENEZUELAN MEDIA MOGUL WHO WAS ACTIVE IN VENEZUELAN POLITICS DONATED TO THE CLINTON FOUNDATION DURING CLINTON'S TENURE AS SECRETARY OF STATE
AN EMBATTLED BUSINESSMAN WITH "TIES TO BAHRAIN'S STATE-OWNED ALUMINUM COMPANY" GAVE BETWEEN $1 MILLION AND $5 MILLION TO THE CLINTON FOUNDATION
DURING CLINTON'S TENURE AS SECRETARY OF STATE, A FORMER CLINTON POLLSTER REGISTERED AS A LOBBYIST FOR PINCHUK AND TOOK MEETINGS WITH CLINTON AIDE'S ABOUT ISSUES IN THE UKRAINE
So now that the truth is being leaked to the American public, Hillary has decided to reform, in this one instance.
Or so she claims. But did she actually, technically break any rules? Find out next: