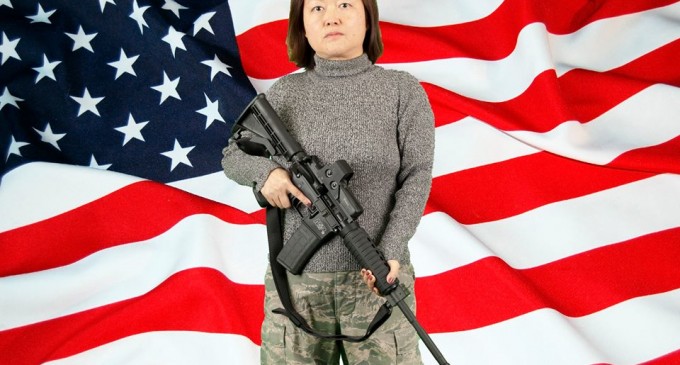 As is all too often the case, it has taken someone born in a country without rights to remind Americans of the importance of theirs.
Lily Tang Williams is a naturalized American citizen and state chair for the Colorado Libertarian Party. Before coming to the United States, she lived in communist China, where she not only got by on a much lower standard of living but also endured oppression like her countrymen at the hands of the nation's totalitarian government.
Williams was alive when the Chinese communists sent tanks into Tian An Men square to kill students protesting for their rights and liberties in 1989. The bloodshed deeply horrified Williams, who now believes that things would have turned out much differently had the protesters in Tian An Men square been armed.
It is for this reason that she has decided to take a stand against the Obama administration's renewed assault on gun rights. Posing with her AR rifle in a photo on Facebook, Williams declared, "I am a Chinese immigrant and an American citizen by choice. I once was a slave before and I will never be one again."
She concluded her post with one final defiant remark to Obama: "I will always stand with my AR, no matter what my President signs with his pen."
See more on the next page: