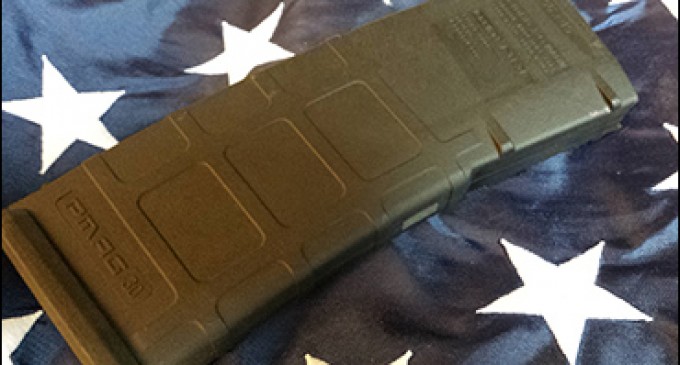 Looks like California gun owners are following Connecticut residents' lead: simply do not comply with gun laws.
At midnight on Thursday, Sunnyvale, CA began imposing a new law that requires residents with rifle magazines that holds more than 10 rounds of ammunition to dispose of them. But not a single resident has turned in their magazines.
San Francisco residents are also under the same new laws and must surrender their high-capacity magazines to police by April 7.
To defeat tyranny you don't need and army, you only need non-compliance from its citizens.
SUNNYVALE, Calif. — Enforcement issues surround two Northern California cities' bans on high-capacity magazines.

The Oakland Tribune (http://tinyurl.com/lvtufr3 ) reported Saturday that since Sunnyvale's ban went into effect midnight Thursday, not one of the now-illegal magazines has been turned in. San Francisco police report that they have no system to track whether any magazines have been turned in for destruction under the new ordinance. San Francisco residents must surrender their high-capacity magazines to police by April 7.

The two California cities enacted laws similar to several other municipalities banning magazines that hold more 10 bullets in reaction to the 2012 mass-shooting at Sandy Hook Elementary School in Newtown, Conn.

The National Rifle Association has filed legal challenges to the bans in Sunnyvale, San Francisco and elsewhere. Judges have so far upheld the bans.

California law has banned the sale of high-capacity magazines since 2000, but it allows owners who possessed the items before 2000 to keep them. Sunnyvale, San Francisco and other cities have gone a step further and made possession of the high-capacity magazines a misdemeanor crime.

High-capacity magazine owners in Sunnyvale can allow the police to destroy the magazines, sell them out of state or to a licensed gun dealer or move them out of town.

Leonard Fyock, a Sunnyvale resident who served as a plaintiff in the NRA-backed lawsuit seeking to halt the city's ban from going into effect, said he moved his high-capacity magazines out of town even though the legal setback is being appealed.

"I just thought, 'Well, this doesn't look good,' " he told the Oakland Tribune. "So my high-capacity magazines are already out of town."

It's not too late for owners to turn over the high-capacity gun magazines to police, Sunnyvale spokeswoman Jennifer Garnett said.

"Barring any unusual circumstances, we wouldn't cite people for voluntarily turning in their large-capacity magazines to public safety even though it is legally possible at this time to cite them," Garnett said.