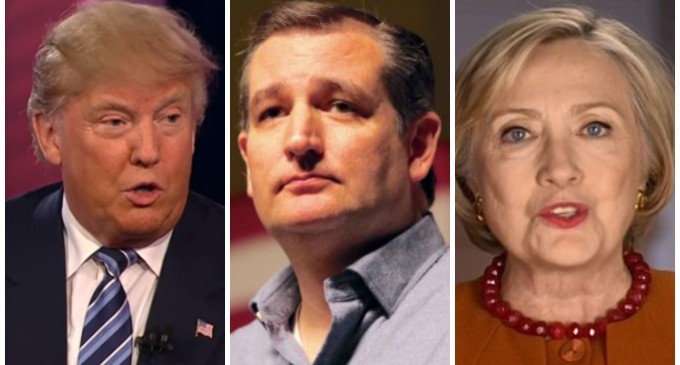 A high-ranking political insider is blowing the whistle on the establishment GOP's plot to manipulate the primaries to keep Donald Trump from being nominated.
Speaking on Breitbart News Daily last Thursday, veteran political pollster and consultant Pat Caddell described what he believes to be a calculated strategy by Republican leaders to insert the candidate of their choice at the last minute at the GOP convention.
He explained to host Stephen K. Bannon that to this end, the establishment is tacitly supporting Ted Cruz as he squares off against party frontrunner Donald Trump. If Cruz gets enough delegates, he will be able to keep Trump from getting a clear majority and thus denying him the nomination.
However, Caddell notes that the establishment dislikes Cruz almost as much as it dislikes Trump, so it will almost certainly abandon him at the nomination to make way for an insider darling like Jeb Bush.
That even Democrats like Caddell are noticing how determined the Republican establishment is to stop Trump should tell you how high the stakes are this election.
Learn more on the next page:
As an outsider looking in, Caddell might actually be able to provide trenchant criticism of the GOP establishment that Republicans might otherwise be reluctant to voice. He even went as far as to say something that conservatives would likely think unthinkable: that the party leadership would rather lose to Hillary than win with Trump:
"'I think the odds are the Trump is the decided underdog right now,' said Caddell, predicting that a big Cruz win in Wisconsin would make it 'very difficult' for Trump to collect the 1,237 delegates he needs to win the first round of balloting at the Republican National Convention.  Also, a loss in Wisconsin will 'energize' those who wish to block Trump from winning the nomination.

'It depends on how he recovers, and how the electorate that's been pushing him recovers,' said Caddell.  'There's a Quinnipiac poll out this morning that shows him with 56% of the vote in New York. He's never been higher than 30 in Wisconsin, but he's going back to his home territory. New Jersey is winner-take-all.  California is a big campaign.'

If Trump can't recover and get the delegates he needs, Caddell thought Senator Cruz would likely find himself discarded after the first ballot at the convention, his usefulness to the Party bosses at an end.

'If they can stop Trump, then Cruz will pick up some more on the second ballot… but I don't think they're gonna nominate him,' he explained.  'I think they will then move to nominate, to try to nominate an Establishment figure, someone who hasn't run.  I think that will blow the Republican Party up.'

Caddell said the GOP Establishment is 'terrified of Trump,' and also opposed to Cruz, because 'they are worried about their arrangements being broken up, their power.'

He said these Establishment politicians would 'absolutely' rather lose the 2016 election to Hillary Clinton than win with Trump or Cruz.  Conversely, the voters who have propelled Trump and Cruz to victory over a platoon of more Establishment-approved candidates are unlikely to 'reconcile' themselves to an Establishment pick inserted at the Republican National Convention."
Source: Breitbart