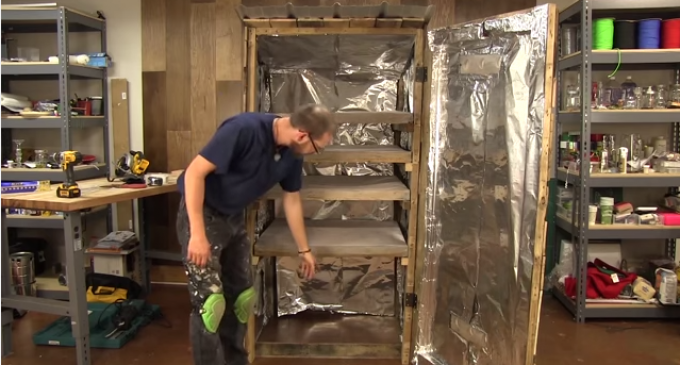 With a pile of old pallets and some inexpensive materials you can build a smokehouse capable of smoking a whole deer or hog.
There are also multiple racks for trays of meats and sausages, which can  provide a source protein for preppers, campers, hikers, etc. interested in keeping meat without the need of refrigeration.
This video provides good step-by-step instruction on building your own smokehouse for around $100…the cost of just a few pounds of beef jerky in the store!
How to Build A Smokehouse:

20-30 pallets, deconstructed
2 1/2 inch screws *you should choose a good outdoor screw, we used plastic coated decking screws
1 1/4 inch screws
aluminum flashing
corrugated tin for roof (4′x3′) *this must be raw metal, not galvanized
heavyduty tin foil
roll of aluminum screen
handle (for door)
hinges (3)

Tools You Will Need to Build A Smokehouse:

reciprocal saw with bimetal blade (used to take pallets apart)
drill gun, preferably a cordless one
drill bits 1/8 bit and countersink bit
measuring tape
metal/tin snips
utility knife
Skil saw or table saw
Staple Gun
Safety Glasses
Work Gloves
For more intricate instructions see the link below: