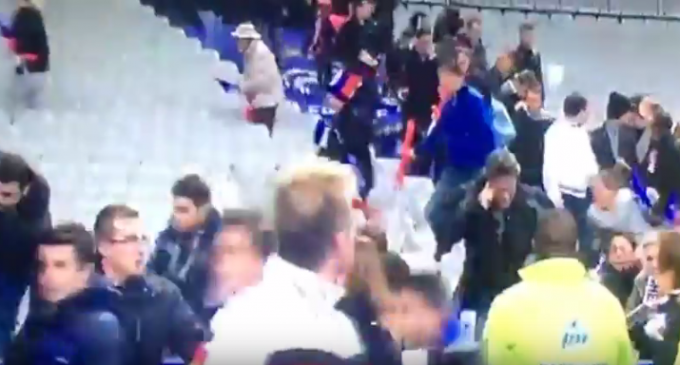 Six shootings and three explosions have rocked the Stade de France in Saint-Denis, Paris. An ongoing shootout is taking place at the venue as French President Francois Hollande is evacuated to safety as he attended a soccer match. The attackers are reportedly equipped with AK-47 assault rifles.
So far there is no indication of any threat to US citizens at this time. Emergency briefings are being conducted by President Francois Hollande, Prime Minister Manuel Valls, and Interior Minister Bernard Cazeneuve. Currently, the suspected shooters are assumed to by Syrian "returnees," citizens who traveled to Syria and returned to Paris.
If true, this would indicate that these assailants were perhaps trained at ISIS terror camps, though it is yet undetermined who these terrorists are affiliated with.
An ongoing terrorist attack in Paris has left 60 dead. Hostages have been taken and police are working on subduing the assailants.
— At least 60 people have died in the attacks, CNN affiliate BFMTV reported.

— Counterterrorism officials around the United States have convened secure conference calls to try to gather information and to assess whether there is any indication of threats in the U.S, according to two U.S. counterterrorism officials. There is nothing to indicate any threat to U.S. cities so far. Immediate suspicion for the events in Paris falls to so-called returnees — people who have traveled to Syria and Iraq and have returned, the officials said.

…

There was a lockdown at the Stade de France due to possible explosions, according to French media. President Francois Hollande was at the stadium, watching France playing world champions Germany in a friendly soccer match, but he left to go to the Interior Ministry.

Police were outside the scene of one of the shootings, a restaurant in the 10th District.

Lylia Melkonian, a reporter for France 2, told CNN the neighborhood has many restaurants that were packed with patrons. Melkonian said authorities were evacuating the area.

A witness told BFMTV that firefighters were on the scene to treat the injured.

Source: CNN
Updates are incoming as the situation develops.
Watch the full statement from @POTUS on the attacks in Paris. https://t.co/yQThOvrdxZ

— The White House (@WhiteHouse) November 13, 2015
https://www.youtube.com/watch?v=gIEKSTitT8I