The man dubbed the "Brazilian Trump" was stabbed by a left-wing terrorist during a campaign rally in the city of Juiz de Fora just a month before Brazil's election.
Bolsonaro will spend at least a week in the hospital and is facing a two-month recovery, according to initial reports. This represents a serious delay for the candidate as Brazil's election is just one month away.
Bolsonaro — a presidential candidate who doesn't hesitate to speak his mind — has been frequently referred to as the "Trump of Brazil." The leading presidential candidate has spoken out against same sex marriage, drug liberalization, affirmative action and other liberal policies. Like U.S. President Donald Trump, Bolsonaro has been a major critic of the Paris accord and has vowed to leave the agreement if elected president.

The conservative lawmaker is slated to win the presidential elections in October. The only other candidate polling above him is former left-wing President Luiz Inacio Lula da Silva — a man who currently sits in a jail cell and has been barred from participating in the election.

The man who stabbed Bolsonaro was identified as Adelio Bispo de Oliveira, according to a report from the Guardian. His motive is not immediately clear.
https://twitter.com/France24_en/status/1037990207264575488
Urgente: Bolsonaro levou uma facada em ato de campanha na cidade de Juiz de Fora (MG). Perfuração atingiu o abdômen. Presidenciável foi levado para Santa Casa de Juiz de Fora para receber atendimento pic.twitter.com/YXuUG9gtvi

— George Marques (@GeorgMarques) September 6, 2018
— Blog do Noblat (@BlogdoNoblat) September 6, 2018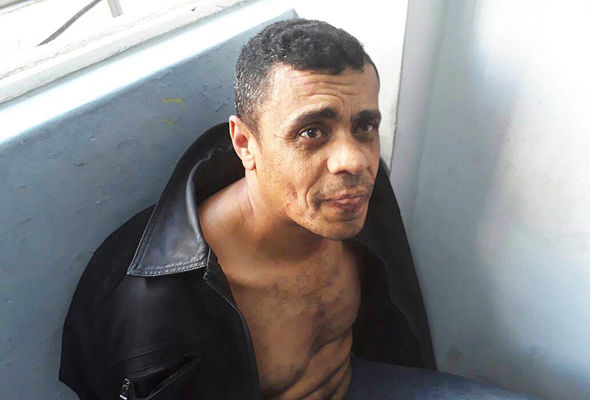 Adelio Obispo de Oliveira
Jair Bolsonaro, frontrunner for the presidency in Brazil, was stabbed in the stomach while being carried on the shoulders of a crowd of supporters at a campaign rally in Juiz de Fora.

Read the full story here: https://t.co/VLSvDqN3P2 pic.twitter.com/HYMgKHpJzV

— Sky News (@SkyNews) September 7, 2018
Source: Daily Caller
Image: Express