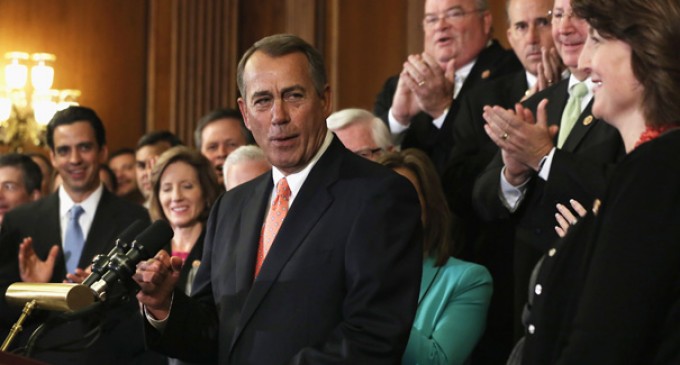 Boehner and his RINO cronies are seeking to change GOP conference rules in order to squash any opposition to Boehner being elected speaker again – opposition coming mainly from tea-pary-aligned Republicans.
Those who don't vote for Boehner as speaker will be lose their committee assignments or otherwise be punished for not 'falling in line'.
They've given John Boehner constant headaches during his three years as speaker.

Now, Boehner's friends are trying to make sure that a small pocket of tea-party-aligned Republicans won't have a chance to derail his speakership next year. And if they try, they could be punished.

A group of his closest allies — including fellow Ohio Republicans like Pat Tiberi — are discussing tactics such as trying to change GOP Conference rules to punish members who do not support the party's nominee during a floor vote. A lawmaker who bucks the Republicans' choice for speaker could lose committee assignments — or worse. Boehner's allies have already stripped some Republicans of their committee assignments for straying too far from the team.

In a sign of force, some of Boehner's friends are considering releasing a letter with the names of several dozen GOP lawmakers pledging to vote for no one else besides the speaker — making the election of a more conservative rival logistically impossible.

The effort is playing out amid ongoing speculation that Boehner may retire soon after the midterms, though the Ohio Republican insists he will stick around. And while his tenure has been defined by the tea party's fury, the maneuvering to keep him in power is a reminder of the enduring strength of the GOP's establishment wing.

Boehner's critics are loud but disorganized and stand little chance of toppling him at the moment. But the talks represent a drastic shift in Boehner's corner of the House Republican Conference and are, in part, a reaction to a laid-back attitude that is seen as both a strength and hobbling weakness for the speaker.

Michael Steel, a spokesman for Boehner, said the Ohio Republican "has said repeatedly he expects to be speaker in the next Congress, so when the House Republican team meets after the election, he hopes and expects he will be their choice for speaker, and once that decision is made, that the team will vote for him on the floor in January."

Asked about the discussions, Tiberi declined to comment. Boehner and his senior aides are aware of the talks, several sources said.

(PHOTOS: John Boehner's life and career)

For allies of the 64-year-old Boehner, the effort reflects their bruising experience in 2013. Boehner was caught flat-footed when a dozen conservatives voted for other Republicans for speaker, including Majority Leader Eric Cantor, Ohio Rep. Jim Jordan and defeated former Florida Rep. Allen West. At the time, Boehner and his staff were lackadaisical in beating back the minicoup, and downplayed it.

Ultimately, he won the speakership after the 2012 election with the support of 200 Republicans, while 12 members of the party either voted against him or declined to vote at all.

There's plenty of time before leadership elections — they are eight months away — and Boehner's aides say he has made inroads with some of his detractors. But his political stature in the conference is the subject of endless conversation in the Capitol.

Doubts about his future were reignited earlier this month when he took to a stage in San Antonio and declined to commit to another full two-year term as speaker.

But at the same time the protective measures are being discussed, Boehner World is feeling increasingly confident about the speaker's political position if he does stick around.

For one thing, the electoral landscape for Republicans is brightening in both the House and the Senate. In the upper chamber, Republicans have a fighting chance to take back the majority for the first time since 2006. People close to Boehner doubt he would leave if Congress is controlled by Republicans.

In the House, the GOP is hoping for gains of five to 12 seats, which Boehner-aligned Republicans see as a boon to the speaker. Boehner is playing a large role in this election, spending loads of time on the road raising money for candidates and incumbents alike. He raised more than $54 million in 2013, and transferred more than $12 million to the National Republican Congressional Committee, according to a Boehner aide.