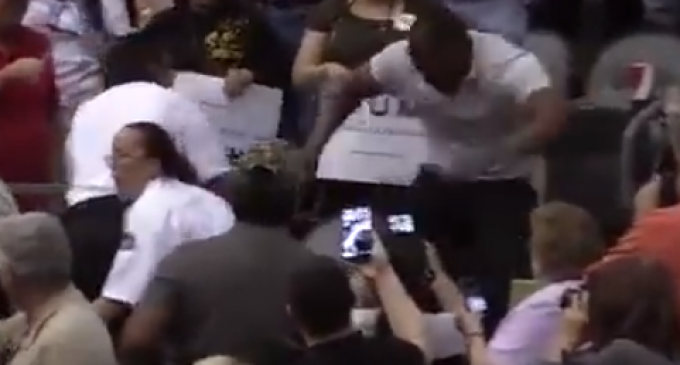 There is such a great divide in America and Trump rallys offer a micro-view of how ripped apart our nation has become since Obama, the Divider-in-Chief, took office.  Political experts claim that Trump's campaign events have had a level of violence that they have not seen in their lifetime, which may be accurate, but certainly the 60's and 70's had a radical divide and violence occurring then as well.  This is not a new phenomenon.
In Tuscon, Arizona, more violence erupted at the Saturday night rally.  A black Trump supporter was arrested for punching and repeatedly kicking a protester, while he was being lead out by security.  The protester who was on the receiving end of the fist, was also escorted out for his part in the disruption of the rally, along with the woman he was with, who was wearing  KKK headgear.
Other protesters were also locked up by Sheriff Joe Arpaio because they had blocked the main highway leading to the rally in Arizona.  Arpaio has endorsed Trump because of his immigration stance.  Arizona's porous borders have left Arizona citizens dead at the hands of illegal aliens, and Sheriff Joe believes that Trump will keep his campaign promises and build the giant wall on the Mexican border.
View the video and more details of Trump's Tuscon event on the next page.