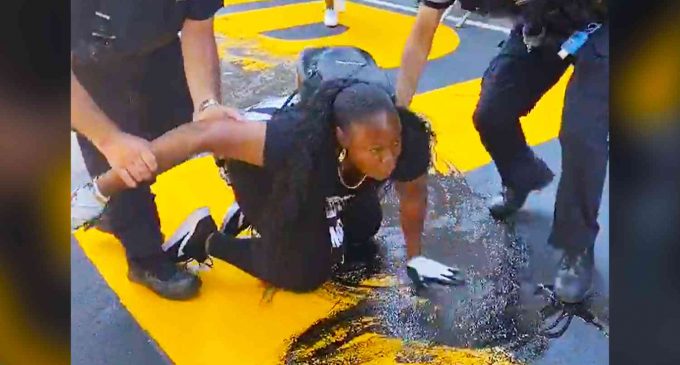 For the third time in less than a week, the Black Lives Matter mural painted on the street in front of President Trump's New York City tower has been defaced with bucketfuls of paint, but this time it was by a black preacher and accomplices.
According to a witness, around 3 p.m. on Saturday a car carrying four women and 10 cans of paint arrived at Fifth Ave. Video shows Bevelyn Beatty of The Well Ministries pouring paint on the street then spreading the it across the mural.
As police officers surrounded her she screamed: "they don't care about Black lives," "refund the police," while accusing bystanders of not caring about black lives.
"Black Lives Matter is a domestic terrorist organization," Beatty said. "They don't care about black lives. They support the killing of more than 600,000 black babies every year!"
Other women shouted "Blue Lives Matter" and "All Lives Matter" as they defaced the mural.
Unfortunately, one of the officers was taken to the hospital after he slipped on the paint and tumbled to the ground,. He suffered only minor injuries to his head and arm and was listed in stable condition at Bellevue Hospital. Officers allowed Betty to carry on with defacing the mural for several minutes while standing around her, only appearing as if they were about to act before she was finally taken into custody.
Move to the next page for video.