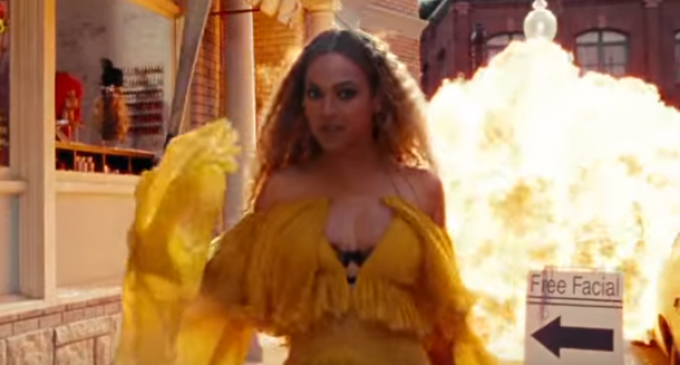 Ricocheting between scenes of Beyoncé kneeling by a car in a graffitied parking garage, to storm scenes and corn fields, the eerie teaser trailer cuts to a shot of her swinging bat at a New Orleans Police Department surveillance camera and then to burning walkway, while her voice whispers… "Pull me in, pull me in. What am I doing?"
The new project, titled "Lemonade" is to premiere on HBO April 23rd.  It is not immediately certain if the   new project is a song, full album, or perhaps a documentary or narrative film.
What message, subliminal or not, is the controversial pop star portraying as she wields a baseball bat in from of an enormous explosion and then swing at a "N.O.P.D." surveillance camera.
Her Super Bowl Half-time show antics have demonstrated to the entire world that she has issues with cops and links herself to radical groups like the Black Panthers and Black Lives Matter.
Truth and Action stated, "Beyoncé issued a strong political statement with her halftime show at Super Bowl 50 on Sunday with backing dancers dressed as members of armed rights group the Black Panthers.

The superstar brought the dancers on for her new single Formation which is being widely touted as a rallying cry for the Black Lives Matter movement.

At one point during the song, the supporting performers formed an 'X' on the field – thought to reference black rights campaigner Malcolm X – and then raised their arms in the air in a gesture referencing the black power salute by Tommie Smith and John Carlos at the 1968 Mexico City Olympics.:

Following the show, several of the dancers were pictured giving the same salute around a piece of paper that reads 'justice 4 Mario Woods' – a black man shot dead by police in San Francisco last December.
Want to view the provocative "Lemonade" teaser? Move onto the next page.