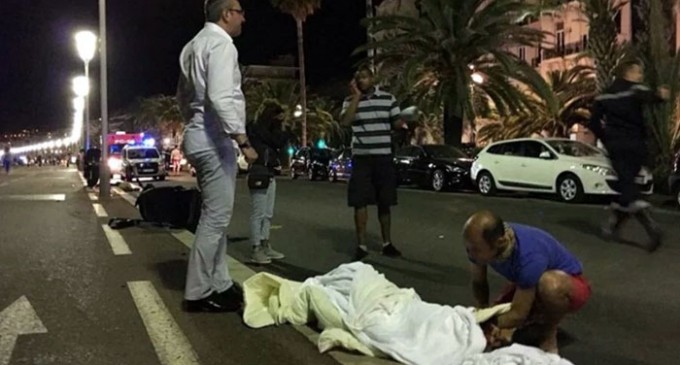 At least 73 people have been killed and over 100 injured during after a driver plowed a crowd of people celebrating Bastille Day in Nice, France.
Gunfire was reportedly heard after the initial incident. Witnesses state that the truck appeared to maintain a constant speed while zigzagging through the crowd. Two factors leading many to assume the event to be a terrorist attack.
Witnesses reported hearing gunfire in the aftermath of the incident which happened shortly after 10.30pm.

A bullet-riddled lorry could be seen at the scene, supporting reports the driver was shot

TWITTER

Horrific images appeared online showing people lying motionless on the ground

TWITTER

Bodies were seen being wrapped up in sheets in the streets in images posted on social media

TWITTER

Police and ambulances descended on the chaotic scene, with medics desperately trying to help the injured

The incident happened in the southern city of Nice on the French Riviera, spreading fears of a terror attack.

Crowds had gathered on the Promenade des Anglais for a firework display, when the lorry apparently crashed into them.

Videos posted online showed panicked people running from the scene in fear, while witnesses reported terrified onlookers throwing themselves into the sea to escape the crush of bodies.

Others described an exchange of gunfire between the driver and the police, with pictures emerging of what appeared to be the bullet-riddled windscreen of the lorry.
Check out the Next Page for a live feed of the aftermath of this horrific attack: