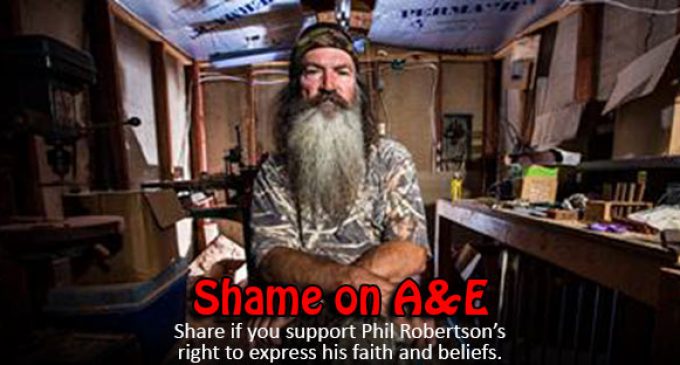 The Daily Mail reports that people are flocking to support Duck Dynasty star Phil Robertson after the network, A&E, placed him on indefinite suspension from the hit show after executives at the network took issue with remarks he made in an interview with men's magazine, GQ. A network publicist accompanied him to the interview, but was not present when he made the remarks, called 'homophobic' by some. Still, Robertson's views were well-known to the network and their censure seems likely to be designed to garner media attention and pander to a tiny vocal leftist minority.
Indeed, a consumer backlash over the suspension has driven massive sales of Duck Dynasty branded merchandise at Walmart in support of the Robertsons.
Walmart announced at their annual shareholders meeting that the best-selling item of apparel for both men and women this year was the reality show's T-shirt, according to Forbes

Action to take: Ironically, financial support from buying merchandise also benefits A&E to a large degree. Really want to tell A&E what you think? Share this article and use the contact information below to communicate with A&E directly!
Tell A&E what you think of their decision:
A&E Television Networks, LLC
235 E. 45th St.
New York, NY 10017
NY Tel. 212-210-1400
Fax 212-210-1308
Email: [email protected]
Facebook: Duck Dynasty on A&E
Twitter:@AETV @DuckDynastyAE
Source: Daily Mail