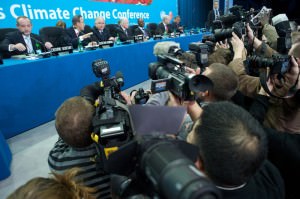 The Australian prime minister's chief business adviser Maurice Newman recently stated that climate change is a hoax created by the UN to scare the world into handing their sovereignty to a new world order.
It's a well-kept secret, but 95 percent of the climate models we are told prove the link between human CO2 emissions and catastrophic global warming have been found, after nearly two decades of temperature stasis, to be in error," he wrote in an opinion piece published in The Australian newspaper on Friday, without providing evidence.

"The real agenda is concentrated political authority. Global warming is the hook," he said, adding that the UN is against capitalism and freedom and wants to create a "new world order."

…

The prime minister has been reluctant to take part in climate change politics, trying but failing to keep it off the agenda at last year's G20 summit.

Both Abbott's office and the United Nations have so far declined to comment on Newman's statements.

A well-known climate change skeptic, Newman has made similar provocative comments in the past, calling the notion a"myth" and a "delusion."
The conspiracy to create a New World Order has been out in the open for years as an unacknowledged fact among the socialist Left.
The strangling of our rights as free and private citizens and businesses are under attack by the members of this conspiracy. Of course, the UN wants to keep as many people cowed for as long as possible, when their final move to hoard global authority can be made.