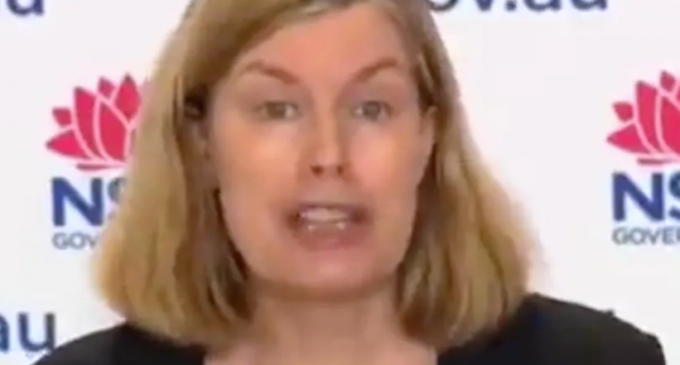 Lockdown orders last month in Australia caused thousands across the continent to take to the street in protest with hundreds being arrested. One anti-lockdown protest in Melbourne was one of the most violent the city has seen in 20 years, according to Victoria Chief commissioner Shane Patton. Patton said his officers had no choice but to defend themselves with non-lethal weapons from an angry mob that came armed and appeared intent on attacking them.
Clearly, many Australians have had enough of the lockdowns – and those so insense by their heavy-handed government certainly won't find comfort in the words of Dr. Kerry Chant, Australia's public health chief, after her comment on the New World Order.
"We will be looking at what contact tracing looks like in the New World Order…yes it will be pubs and clubs and other things if we have a positive case there," Dr. Chant said.
New World Order????? Listen… we've been told! Was this an accidental mention? New World Order… pic.twitter.com/lhBx9fwgNp

— rebecca welland (@welland01) September 9, 2021
The video clip of Dr. Chant talking about the New World Order immediately went viral.
Some users pointed out that this wasn't the first time an NSW official had used the term during a COVID-related press conference. Minister for Health Brad Hazzard described the pandemic as a "new world order" in July 2020. "This is a world pandemic, it's a one in a 100-year event, so you can expect that we will have transmission from time to time, and that's just the way it is. We've got to accept that this is the new world order," Hazzard said during a conference, following an outbreak of cases.

https://twitter.com/wong_d0_mein/status/1435810829316677636

The ABC reported last month that Hazzard's statements had sparked a wave of conspiracy theory videos on TikTok and other platforms. Sydney has been on continuous lockdown since June. And while Australians will be relieved to see some of their freedoms returned to them, in the post-COVID era, things will never be the same as they were – and new "localized lockdowns" can still be imposed at any time.

Not to worry, Twitter and YouTube are here to set conspiracy theorists straight about said thing that doesn't exist.
Source: ZeroHedge