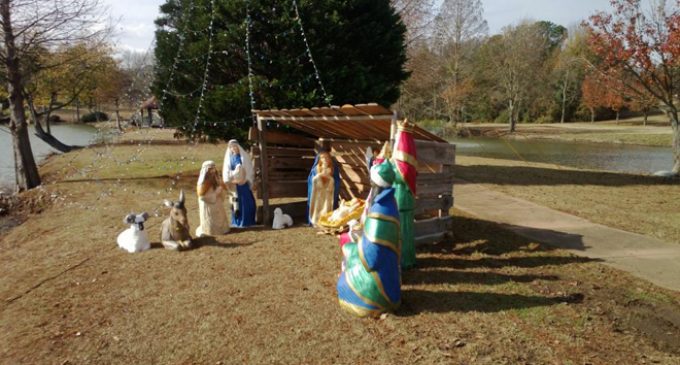 Shaw AFB, Sumter, South Carolina: An atheist activist group called the Military Religious Freedom Foundation (MRFF) contacted military officials with a complaint that a display of a nativity scene was in violation of a Department of Defense regulation, "Department of Defense Directives, Instructions, and Regulations, the United States Constitution, and Air Force Instruction 1-1, specifically, section 2.11."
Todd Starnes of FoxNews commented in his column, "Apparently, an undisclosed number of Airmen were so emotionally troubled by the sight of a manger scene that they immediately notified the MRFF.

I can only imagine the psychological damage they must have suffered as a result of glancing at the plastic statues. I hope no one needed hospitalization, God forbid."
American Atheists Military Director Paul Loebe writes:
"To the Air Force's credit it agreed with MRFF's arguments to remove the nativity scene swiftly and apparently found this scene to be as much a violation of all the pertinent regulations and the United States Constitution as MRFF did. Within 2 hours and 15 minutes of initially being contacted by MRFF, the nativity scene had been promptly removed. MRFF wants to congratulate the Air Force on acting so swiftly to reverse this egregious violation and hopes that in the future they will ensure that no such violations continue to occur."
Fox News contributor Sarah Palin told Todd Starnes, "What happened at Shaw Air Force base is not surprising."
"We see stories like this every day and yet left wing pundits still claim that the so-called 'War on Christmas' is a figment of the imagination. The War on Christmas is just the top of the spear in a larger battle to marginalize expressions of faith and make true religious freedom a thing of the past."
Activists across the state plan to protest the base's decision on December 15. A Facebook page in support of the nativity scene has gone viral with over 6,000 fans.
Please comment below. Did the Air Force base made the right decision? Is the base cooperating in an attack on religious freedom?
Shaw Air Force Base Nativity Scene Support Page on Facebook
Source: FoxNews
Photo: Military Religious Freedom Foundation