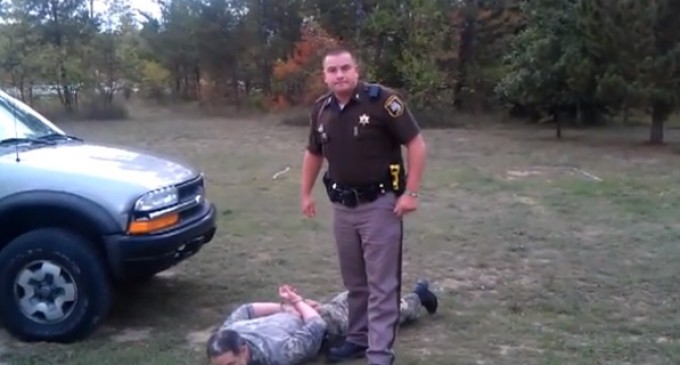 Sunday in Crawford County, Mich., a man reportedly called police to report a trespasser riding a dirt bike on his property. When sheriff's deputies arrived, they arrested the property owner, a veteran, charging him with felony assault with a deadly weapon. According to the man's wife, Heather, the weapon in question was a shotgun, empty and open.
When officers with the Crawford County Sheriff's Department arrived on the scene, Heather says her husband held up the "open shotgun" with his left hand while holding the shell in his right hand to indicate the weapon was not loaded and assure officers he was not a threat.

…

One of the deputies, identified by Heather as Shawn Schnoor, "fumbled" with his pistol and trained it on Donald, ordering him to get on the ground. Heather told TheBlaze it took her husband longer than the officer wanted because he has a badly injured back but he moved as fast as he could. Donald was handcuffed before police made their way to talk to the trespassing suspect.
The officers allegedly demanded that Heather delete the video she began filming after she realized they were arresting her husband. In the clip below, recovered with the help of software, you can see part of the event.
Donald was charged with assault with a dangerous weapon (felonious assault) "without intending to commit the crime of murder or to inflict great bodily harm less than the crime of murder." He faces up to four years in jail and/or a $2,000 fine. Police have also confiscated his shotgun and hunting knife and are holding them as evidence in the case, according to Donald's wife.

The man on the dirt bike was allegedly issued a citation for trespassing by a conservation officer but was not arrested.
Details are still confused to some extent, but "the couple is outraged because "this is a man who was openly carrying an unloaded shotgun on his own property, which is legal in Michigan, and it's even hunting season.""
Source: The Blaze
Photo: YouTube