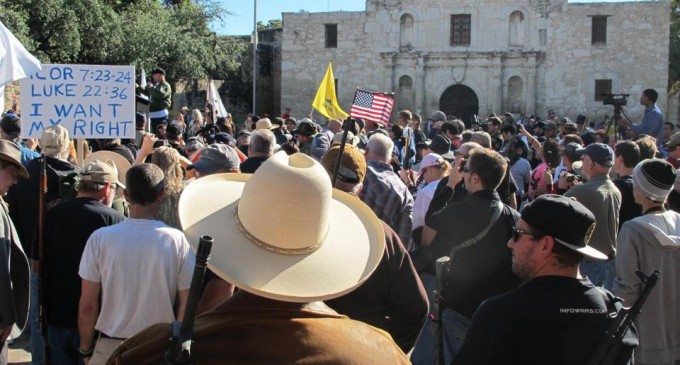 Don't Mess With Texas!
SAN ANTONIO (AP) — Several hundred gun rights activists armed with rifles and shotguns rallied Saturday outside of the Alamo in a demonstration that broke a longstanding tradition of not staging such events at the enduring symbol of Texas independence.

The "Come and Take It San Antonio!" rally was intended to draw attention to a right Texans already have — to carry long arms publicly so long as they don't do it in a menacing manner.

Organizers thought it necessary to offer a reminder after several open carry advocates were threatened with arrest at a Starbucks in the city two months ago. The problem remains that a local ordinance effectively limits the open carrying of firearms to police and security guards. That ordinance was not enforced Saturday.

San Antonio Police Chief William McManus mingled in the crowd that police estimated at about 300 to 400, but the larger police presence remained around the perimeter of the Alamo plaza. "

There are too many issues associated with trying to enforce every ordinance here today," McManus said. He said his priority was that people be able to exercise their constitutional rights and that everyone remain safe.

Volunteers walked through the crowd placing red plastic straws in rifle chambers, a visible assurance they were not holding a round. Rally organizers said just holding their demonstration in front of police without incident was a victory.
AP/Christopher Sherman