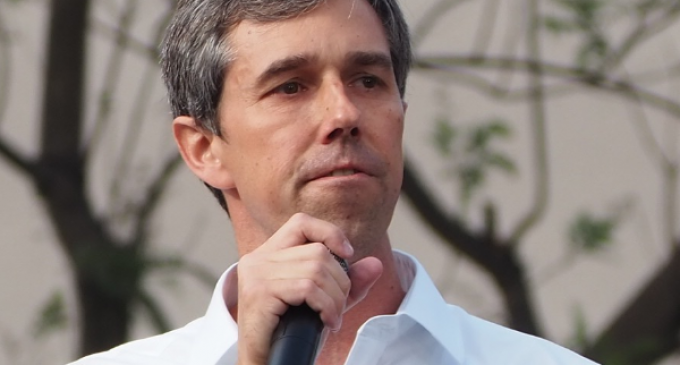 A gun shop in Arizona thanked presidential candidate Beto O'Rourke for the success of their sales special held last week that was 'inspired' by his recent visit to a gun show.
On August 17, 2019, O'Rourke tweeted about visiting a gun show in Arkansas. One of the photos he tweeted showed a sign advertising AR-15s for $395:

In Arkansas, I listened to gun owners and sellers—and appreciated hearing their perspectives. But as the plan we released yesterday says, if I'm president, you wouldn't be able to buy weapons of war for $395. You wouldn't be able to buy them at all. pic.twitter.com/Pz8KuFq9Tt

— Beto O'Rourke (@BetoORourke) August 17, 2019

O'Rourke used his time at the September 12, 2019, Democrat debate to make clear his plans to take AR-15s from Americans, saying, "Hell yes, we're going to take your AR-15."
Alpha Dog Firearms in Phoenix responded to Beto's recent AR-15 confiscation tantrums by running a "Beto Special." The store sold AR-15s cheaper than the $395 price Beto found in Arkansas – pricing them at $349.99.
On Sunday's "NBC's Meet the Press," O'Rourke told host Chuck Todd: "I refuse to even acknowledge the politics or the polling or the fear or the NRA. That has purchased the complicity and silence of members of Congress."
Todd responded: "There's a lot of hand wringing about what you said, agreeing with your sentiment but concerned that the rhetoric is going to actually backfire. What do you say?"
"I think this just shows you how screwed up the priorities in Washington, DC are. I think what's truly awful is a 17-month-old baby shot in the face with an AR-15, as happened in Odessa. What's truly awful is 22 people killed in a Walmart the Saturday before school starts that next Monday, buying their school supplies, innocent of any crime or any threat to this country, in fact, living in one of the safest cities in America, El Paso, Texas, hunted down by their ethnicity with a weapon that was designed for use on a battlefield,' O'Rourke said.