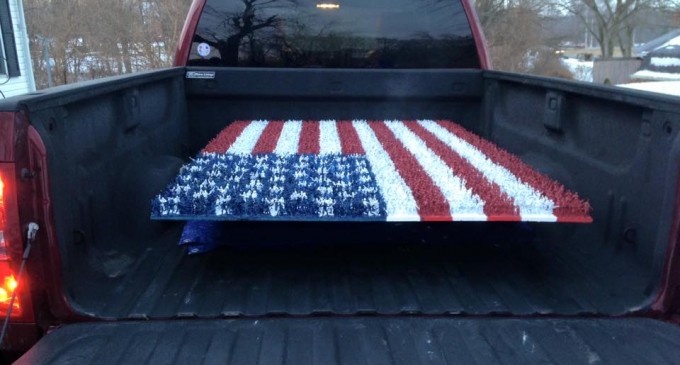 An American patriot has created a work of art for his  senior high school art project that is astounding.  Jacob Feazel's project was done to "honor those who fight so I can make art".  So extraordinary is this patriotic tribute, that the photos posted by his mother Stacey Feazel on Facebook last Thursday, had by Friday afternoon been shared an astonishing 80,446 times and counting.
The art project by this Maconaquah High School senior took more than 56 hours of work and 11 days to complete.  The piece is of an American flag, created in a manor unlike any other, with 4, 466 toy soldiers spray painted red, white and blue. Utilizing a 4-by-6 wooden platform, also spray painted to look like the American Flag, he glued strategically the thousands of plastic fighting men.  Jacob Feazel was inspired by Dave Cole's "Memorial Flag".
Jacob Feazel's goal was two fold, to honor veterans and also to win an award from his art teacher Josh Hancock.  Jacob gave his all to this project and the result is awe inspiring.  The must see photos can be found on the next page.