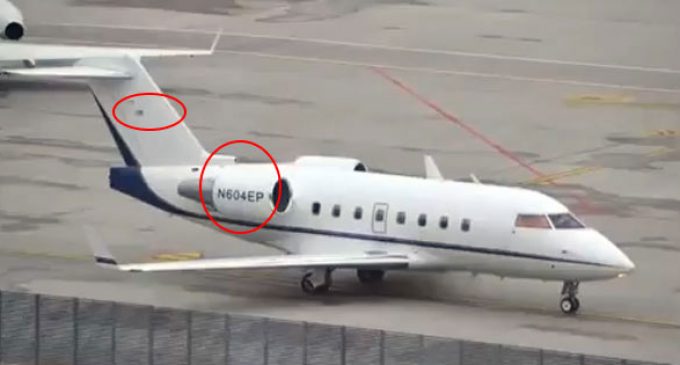 This American airplane has been spotted  in various airports from Zurich, to London, to Ghana and on Tuesday it sat exposed  at Mehrabad Airport in Tehran, the capital of the Islamic Republic of Iran.
As reported in The New York Times, nobody seems to know why it is there, but even with the eased sanctions against this enemy nation, experts say the plane would have needed approval from American officials before venturing to land there, in the open!
Under President Barack Obama, the United States has eased some of the long-standing punitive economic sanctions against Iran. Still, very little American — or European — economic activity is allowed inside the religious theocracy.

The Bank of Utah is certainly no Wells Fargo. The Ogden-based community bank has all of 13 branches including three in Ogden, two in Salt Lake City and one in Trementon (pop. 7,647). Its humble motto is: "Experience. Service."

The bank's senior officials say they are baffled.

"We have no idea why that plane was at that airport," Brett King, a Bank of Utah executive in Salt Lake City, told the Times.

"As fiduciary, we must keep information confidential when it comes to the beneficiary," he added.

King also called the Bank of Utah "very conservative" and promised to get to the bottom of the situation "if there is any hint of illegal activity."

The bank executive explained that his employer is only a trustee for the unidentified investors (possibly foreign investors) who actually own the aircraft (N-Number N604EP). Interestingly, the Bank of Utah acts as a trustee for a slew of planes—1,169 of them to be exact, everything from Boeing 747s to small, piston-powered Cessnas. In fact, not many American banks act as a trustee for more American aircraft.

The Federal Aviation Administration offered no help whatsoever concerning the mysterious jet parked in broad daylight at the busiest airport in Iran (over 13 million passengers in 2010).

Similarly, the Treasury Department's Office of Foreign Assets Control, which enforces the vast array of sanctions against Iran, refused to comment. However, under federal law, the department is normally supposed to approve the presence of any American airplane on Iranian soil. Such approval would be especially important in this case because the plane is powered by engines manufactured by General Electric.
An Iranian spokesman for the country's mission to the U.N. in New York was not forthcoming either. Clearly someone in America is interested in working with folks in the foreign dictatorship with the newly-eased sanctions.
Source: Daily Caller
Photo: YouTube screencapture