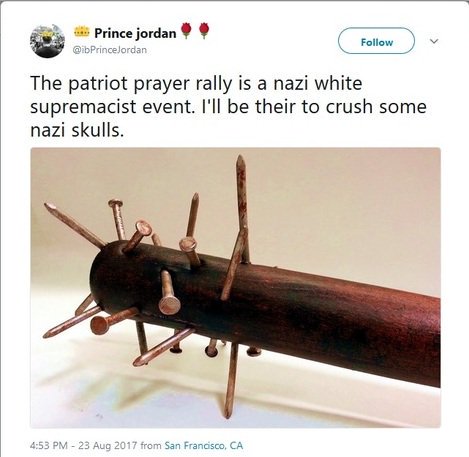 Far-left leaders are getting more bold with their proclamation of hate against the right. Now, they're publically threatening violence without fear of retribution from the media or the sites on which they make the threats.
A self-proclaimed Alt-Left "leader" has vowed to use a baseball bat embedded with nails to "crush skulls" during a "Patriot Prayer" peace rally set to take place in San Francisco this weekend.

The Twitter user, who goes by the handle @ibPrinceJordan, tweeted, "The Patriot Prayer rally is a nazi white supremacist event. I'll be their to crush some nazi skulls."

He repeated the threat in a series of other tweets that have now been deleted.

"Can't wait! Going to bring this nailed bat for some nazi pounding," read one.

The user is located in San Francisco, which is where the event will take place at Crissy Field on Saturday, suggesting he does indeed plan to attend the march.

[…]

What makes the threat even more absurd is that organizers of the Patriot Prayer rally have specifically said its aim is to "promote peace, love and unity," and that racists are not welcome.
"Peace through strength" was a major tenant of the Reagan administration's foreign policy. Now, the far-left have perverted that ideology into "peace through violence." By replacing "strength" with "violence," not only does the tactic not make sense — it becomes textbook terrorism.
Then again, the far-left have never been good at condemning terror in the first place.
Source: Info Wars