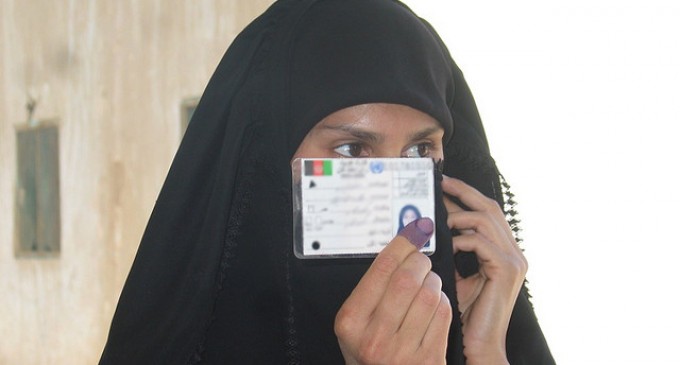 With all the noise Democrats make about photo ID requirements causing voter suppression, you would expect elections in a place like Afghanistan to be a perfect example of this liberal complaint. Does the requirement to carry a photo ID to the polls stop voters there? Not at all. Afghan voters brave drive-by-shootings and suicide bombings to make their votes count! They know what actual voter suppression is.
As the Associated Press reports, The run-up to the election was troubling: the Islamic radicals of the Taliban, reviled by many but still popular in some areas, view the entire enterprise as the work of outsiders and infidels, and they vowed to disrupt it by targeting polling centers and election workers.

To drive home the threat, insurgents in recent weeks stepped up shootings and bombings in the heart of Kabul to show they are capable of striking even in highly secured areas. A restaurant popular with foreigners and one of the capital's main hotels were hit, killing many. Suicide bombers struck relentlessly.

On Friday, veteran Associated Press photographer Anja Niedringhaus was killed and AP reporter Kathy Gannon was wounded when a local policeman opened fire as they sat in their car on the outskirts of Khost, in eastern Afghanistan. The two were at a security forces base, waiting to move in a convoy of election workers delivering ballots — apparent victims of an "insider attack" in which the very people tasked with protection turn out to be insurgents.
Allen B. West makes an excellent point: American liberals whine about "voter suppression," but they don't even realize what that is. What they're really complaining about is "fraudulent voter suppression". They love to play the race card when talking about voter photo ID because that fits their agenda, but in fact, photo ID requirements only prevent fraudulent voting.
Source: Allen B. West
Photo: Canada in Afghanistan