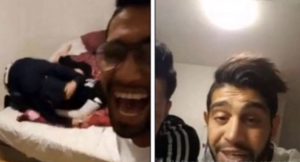 Earlier this week, a horrifying gang rape was broadcast live on Facebook. The suspects are now in custody and two of them are Afghan migrants.
TWO migrants from Afghanistan have reportedly been arrested over the three-hour gang rape of a woman that was broadcast on Facebook Live.

The two men, aged 18 and 20, who are both from Afghanistan, were arrested in the city at the weekend after police were tipped off by social media users, it was reported by The Local newspaper.

The third man, a Swedish citizen aged 24 according to court documents seen by The Local, was detained on suspicion of failing to reveal rape which shocked the world after it appeared on Facebook live.

The three, who cannot be legally identified under Swedish law, have not been charged.

In Sweden a person suspected of a serious crime can be detained without being charged with the approval of a court.

But this is only if there is a risk they will flee the country.

According to the Local, the men deny the accusations.

"I have seen stronger evidence in my days," the 24-year-old's lawyer, Andreas Welin, told Sweden's largest news agency TT after the pre-trial hearing.

The lawyer representing the 20-year-old, Christer Söderberg, says: "A woman is said to have been raped in an apartment. He is suspected of that.
Unfortunately, attacks such as these are not uncommon in Europe. Ever since the continent began letting in millions of migrants and refugees from the Middle East, they've been seen crimes against women spike. Still, liberal politicians seem to turn a blind eye in order to sell their leftist immigration policies to the rest of the world.
Source: The Sun