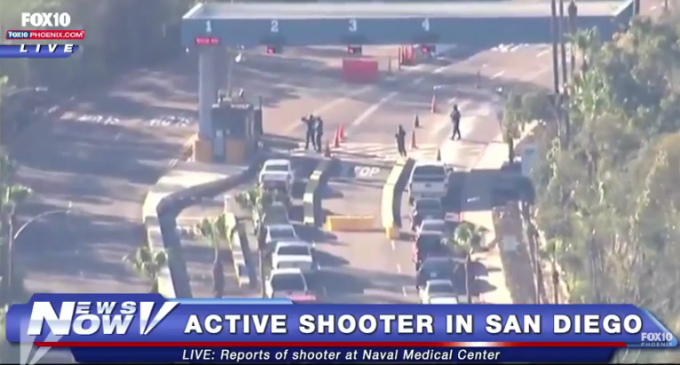 An active shooter was reported just after 8 a.m. at the Naval Medical Center San Diego, where occupants are being advised to "run, hide or fight."
A statement on Facebook by the center stated that the active shooter report was at the Balboa medical center Building 26 – located 34800 block of Bob Wilson Drive in San Diego.
"If you are in the vicinity, shelter in place. If in immediate danger, hide or seek shelter in secure space. Barricade the door and dial 911. Silence phones and other devices. Stay away from doors and windows. Remain calm and quiet."
The medical center posted an update just after 9 a.m. saying that all childcare facilities have been secured:
"!UPDATE! For all concerned, the childcare facilities at NMC are currently secured. All children are accounted for and safe. The entire complex is secured, there is no access to the facilities at this time. "
After the first sweep through the building, no injuries have been reported and no evidence of a shooting has been found. The Navy has stated that the initial report came from one person:
9:45 a.m.

A Navy spokesman says a report of three gunshots heard at Naval Medical Center San Diego came from a single witness.

Navy Region Southwest spokesman Scott Sutherland says the shots were reportedly heard in the basement of the center's Building 26.

The Navy hospital previously said on its Facebook page that an active shooter was reported and people were told to run, hide or fight.
Source: ABC