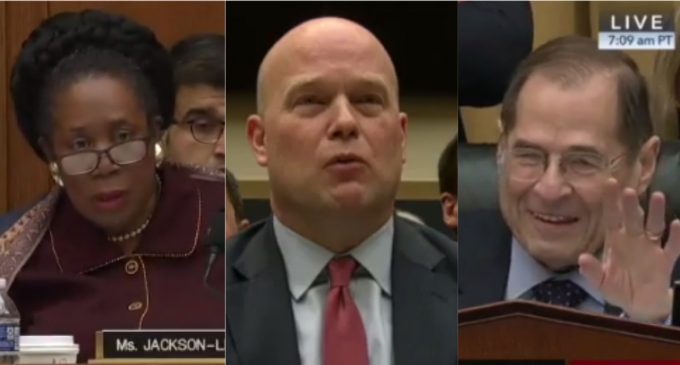 Acting Attorney General Matthew Whitaker clashed with House Democrats Friday during a pointless Capitol Hill hearing on Friday. First, Whitaker told Rep. Jerrold Nadler (D-N.Y.), the chairman of the House Judiciary panel, that his 'five minutes were up' after the Democrat spent his time questioning Whitaker about Robert Mueller's special counsel investigation into Russian collusion.
"Mr. Chairman, I see that your five minutes is up," Whitaker said to Nadler, prompting laughter throughout the room. "I am here voluntarily. We have agreed to five-minute rounds," he added.
Whitaker then clashed with Rep. Sheila Jackson Lee (D-Texas) after he made light of her line of questioning. Lee snapped at the Acting AG, telling him, "Mr. Attorney General, we're not joking here and your humor is not acceptable."
Republican Rep. Doug Collins's (R-GA) excoriated Democrats during his time to speak for waging nothing more than a "character assassination" against Whitaker with the agenda to embarrass President Trump.
Check out the videos on the next page.