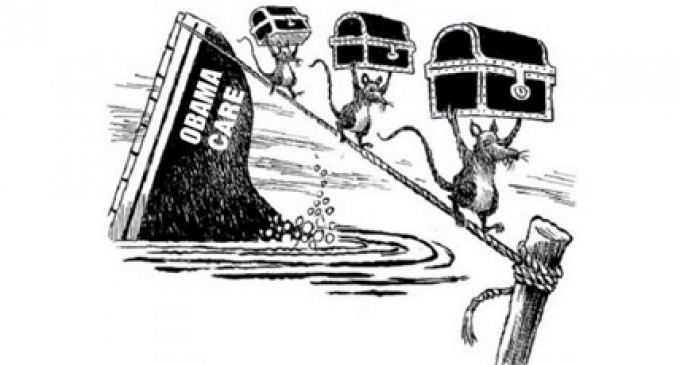 A Republican plan to allow people to keep their insurance – a promise made and then broken By President Obama – gained the support of 39 House Democrats on Friday.
The bill, sponsored by Michigan Republican Rep. Fred Upton, comes in response to the large number of people who have had their policies canceled due to the new Obamacare requirements, in spite of President Barack Obama's promise that people who liked their plans could keep them.

The Upton plan would allow insurance companies to continue offering plans that do not meet the minimum coverage requirements under Obamacare for one year.

The bill would allow insurance companies to provide those plans not only to people who are currently on them and with to keep them, but to individuals looking to purchase a new plan.

That has raised objections from many Democrats, including the president, who promised to veto the bill if it made it to his desk. In a statement Thursday, the White House called it a "major step back," intended to "sabotage the health care law."
It is unclear how it would be possible to further sabotage the ObamaCare ship, which has sunk at the dock!
Which House Reps crossed the floor, abandoning ship?
Here's a list of the 39 Democrats that voted for the bill:
Arizona Rep. Ron Barber
Georgia Rep. John Barrow
California Rep. Ami Bera
New York Rep. Tim Bishop
Iowa Rep. Bruce Braley
California Rep. Julia Brownley
Illinois Rep. Cheri Bustos
California Rep. Jim Costa
Oregon Rep. Peter DeFazio
Washington Rep. Suzan DelBene
Illinois Rep. Tammy Duckworth
Illinois Rep. William Enyart
Connecticut Rep. Elizabeth Esty
Illinois Rep. Bill Foster
Texas Rep. Pete Gallego
California Rep. John Garamendi
Florida Rep. Joe Garcia
Wisconsin Rep. Ron Kind
New Hampshire Rep. Ann Kuster
Iowa Rep. David Loebsack
New York Rep. Dan Maffei
New York Rep. Sean Patrick Maloney
Utah Rep. Jim Matheson
North Carolina Rep. Mike McIntyre
California Rep. Jerry McNerney
Florida Rep. Patrick Murphy
Minnesota Rep. Rick Nolan
New York Rep. Bill Owens
California Rep. Scott Peters
Michigan Rep. Gary Peters
Minnesota Rep. Collin Peterson
West Virginia Rep. Nick Rahall
California Rep. Paul Ruiz
Illinois Rep. Brad Schneider
Oregon Rep. Kurt Schrader
New Hampshire Rep. Carol Shea-Porter
Arizona Rep. Kyrsten Sinema
Texas Rep. Filemon Vela
Minnesota Rep. Tim Walz
Source: The Daily Caller