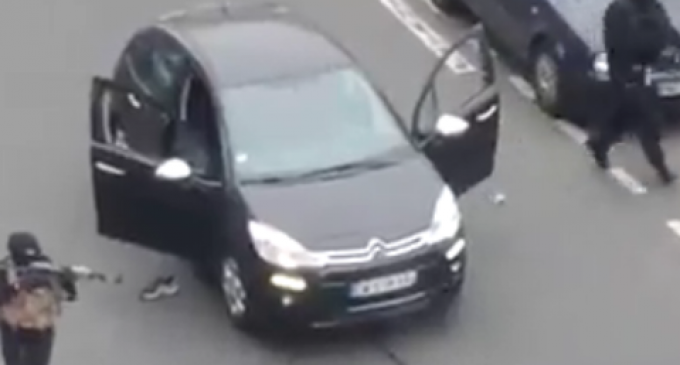 Twelve people have been killed at the headquarters of the French satirical magazine Charlie Hebdo in Paris. The magazine's office was firebombed in 2011 after it published a cartoon depicting an image of the Prophet Muhammed. Any portrayal of Muhammed is forbidden in Islam.
Charlie Hebdo published more Muhammad pictures in 2012 despite the 2011 attack and the threat of further violence against them.
Three masked gunmen stormed the offices of the satirical magazine this morning armed with Kalashnikov rifles a rocket-propelled grenade.
The militants shouted "we have avenged the prophet" and "God is greatest" between their rounds of heavy gunfire.
The publication's editor and lead cartoonist were both killed. Reports indicated around 20 people been injured – at least four critically.
A manhunt is currently under way for the gunmen, who managed to escape after a shootout with police that left 2 officers dead.
PARIS (CBS News/CBSDC/AP) — Paris police say gunmen attacked the office of a French satirical newspaper in Paris on Wednesday, killing at least 12 people and leaving at least as many more injured.

CBS News' Elaine Cobbe reports that, according to witnesses, two armed and masked men walked into the headquarters of the Charlie Hebdo magazine and opened fire in the entrance hallway, killing people as they saw them.

French President Francois Hollande appeared at the scene of the shooting quickly and confirmed that the hunt for the suspects was ongoing. He said the level of terror alert for the French capital had been raised. At least two of those killed were reportedly police officers.

Paris prosecutor's spokeswoman Agnes Thibault-Lecuivre confirmed 12 people were killed.

Calling the incident a "terrorist attack," Hollande said "we must show we are a united country," and vowed to respond with "firmness."

Without further explanation, Hollande said "several" attacks had been averted over recent weeks, and added that France was a target for extremists "because we're a country committed to liberty."

Cobbe reported that, according to at least one witness, one of the gunman was heard asking for people by name.

The suspects managed to escape the scene and were being pursued by police into Paris suburbs.

Benoit Bringer, a journalist with Agence Premiere Ligne who saw the attack, told the iTele network he saw several masked men armed with machine guns. He said two officers arrived on bicycles, then — apparently unarmed — they left.

A reporter for Britain's Telegraph newspaper in Paris told Sky News that the first officers to arrive fled after seeing two or three gunmen armed with automatic weapons and possibly a grenade launcher.

Chilling video initially posted to a Facebook account shows two gunmen open fire on police in a small black car, and then shows them executing one officer as he lays on the sidewalk by shooting him at close range. The masked gunmen are then seen in the video getting into the black car and driving off. The Arabic phrase "Allahu Akbar" can be heard shouted in videoof the attack.

The last tweet from the magazine came less than an hour before the reports of a shooting. It was a picture depicting Abu Bakr al-Baghdadi, the leader of the Islamic State of Iraq and Syria (ISIS), with a message wishing him, "Best wishes."

Charlie Hebdo's office was firebombed in 2011 after publishing a cartoon depicting an image of the Prophet Muhammed. Any depiction of the prophet is forbidden by Islam.

Ignoring the attack and the threat of further violence, Charlie Hebdo published more Muhammad pictures the following year.

AFP reports that the gunmen shouted: "We have avenged the prophet."

"The motive here is absolutely clear; trying to shut down a media organization that lampooned the Prophet Mohammad," CBS News security consultant and former CIA deputy chief Mike Morell told "CBS This Morning co-host Charlie Rose. "What we have to figure out here is the perpetrators and whether they were self-radicalized or whether they were individuals who fought in Syria and Iraq and came back, or whether they were actually directed by ISIS or al Qaeda."

Morrell added a warning that law enforcement and intelligence agencies would need to "worry about copycat attacks, not only in France but in the rest of the world, and I would even say in the broader world to include the United States."

CBS News national security analyst Juan Zarate also noted on "CBS This Morning" that "France has been dealing with the problem of French foreign fighters flowing into Syria and Iraq and coming back into France."

He says it may be more likely, however, that the attack on Charlie Hebdo was carried out by "self-radicalized individuals, individuals who take their prompt from the propaganda of these groups and took it upon themselves, perhaps, to attack."

Zarate pointed to the attack by young French Muslim man Mohamed Merah, who shot up a Jewish community center in the country's south in March 2012, as an example of this sort of violence.

"France is not new to this, and the perpetrators could be a wide spectrum of individuals who were inspired to attack fellow French citizens," said Zarate.

In an interview with MSNBC Wednesday morning, White House Press Secretary Josh Earnest condemned the attack.

As recently as late December, French jihadists who have traveled to Syria to join ISIS on the battlefield have called on Muslims back in Europe to stage attacks.

In a video released the weekend after Christmas, a French fighter claiming to be with the group in Hassaka, northern Syria, urged fellow Muslims to "blow up France and tear it down to pieces."

There was no immediate claim of responsibility for the attack in Paris, but security officials across Europe have expressed concern for months that the hundreds of mostly young men who have traveled to Syria and Iraq to fight with jihadist groups could return to try and stage attacks at home.

There was one unconfirmed report that a survivor of the attack said the gunmen spoke fluent French, and that one of them said they were members of al Qaeda.

French Internet users responded to the attack by showing solidarity with a social media profile image stating on a simple black background, "Je suis Charlie," or "I am Charlie."