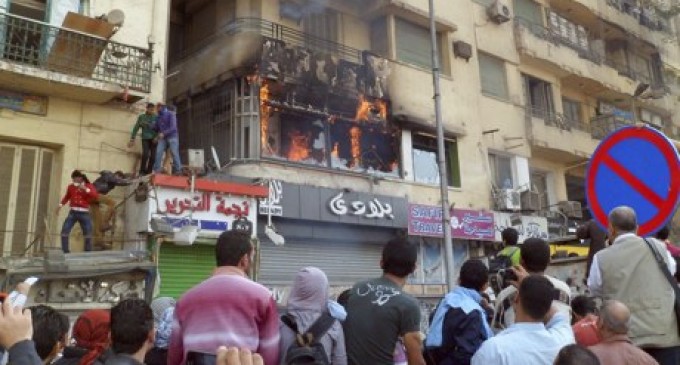 Egyptian prosecutors state that 20 al-Jazeera journalists, including two British citizens, belong to the Muslim Brotherhood and are fabricating new stories.
Other charges include "disturbing public peace, instilling terror, and harming the general interests of the country".
In a recent Egyptian case, Obama and Clinton have been linked to terrorists in classified documents during the trial. See our earlier post.
Egyptian prosecutors and court cases are revealing the depth to which the Muslim Brotherhood has been operating in media and within our own government.
Egyptian prosecutors say they have charged 20 al-Jazeera journalists, including two British citizens, with belonging to Mohamed Morsi's Muslim Brotherhood, fabricating news reports and tarnishing Egypt's reputation abroad.

The journalists include the Australian ex-BBC correspondent Peter Greste and Canadian-Egyptian bureau chief Mohamed Fahmy, who has worked for the New York Times.

"Investigations showed the defendants created a media network headed by an Egyptian-Canadian Muslim Brotherhood member [Fahmy] that has specialised in creating video scenes contrary to reality and aired them through Qatari al-Jazeera English to distort Egypt's international reputation," the prosecution alleged.

Other charges included "disturbing public peace, instilling terror, harming the general interests of the country, possessing broadcast equipment without permit, possessing and disseminating images contrary to the truth".

The identities of most of the 20 defendants were not revealed by prosecutors. It is thought that some of them could be tried in absentia, and lawyers were unclear about whether the defendants included members of al-Jazeera's Arabic channel who were arrested in August, or just the al-Jazeera English journalists seized several months later.

Al-Jazeera English's Greste, Fahmy and local producer Baher Mohamed have been detained since late December after state security officials raided their makeshift offices in the Marriott, a hotel in central Cairo. In a letter from prison, Greste recently said their incarceration was "an attack not just on me and my two colleagues but on freedom of speech across Egypt".

Fahmy has been denied medical treatment for his dislocated shoulder, which was hurt shortly before his arrest. Both he and Mohamed are in a high-security prison reserved for suspected terrorists where they spend "24 hours a day in their mosquito-infested cells, sleeping on the floor with no books or writing materials to break the soul-destroying tedium", according to Greste, who has been held in better conditions.

The charges would have a "chilling effect" on the work of journalists in Egypt, according to Khaled Mansour, the head of a leading local rights watchdog, the Egyptian Initiative for Personal Rights (EIPR).

"I have a very strong concern now for journalists, especially foreign journalists, who are trying very hard to create a balanced picture of what is going on in this country," said Mansour. "The work of a journalist involves going to dangerous places and interviewing outlaws. But if I were a journalist in this country, I would now be very frightened of talking to the Muslim Brotherhood – even though they are an important part of the story. This will really have a very chilling effect on the work of journalists – and I would hope this government will make a distinction between a journalist doing their job and meeting people, and the charges that have been filed."

Foreign journalists are the target of considerable anger from Egypt's government and its supporters. Pro-regime Egyptians resent the international media for covering alleged human rights abuses against supporters of former president Morsi and liberal dissenters opposed to both Morsi and those who ousted him.

"Egypt is still observing with much concern those members of the international community who are positioning themselves in a position which is in explicit conflict with Egyptian national security," said Mostafa Hegazy, an adviser to Egypt's presidency last week.

"All the foreign media is just saying things from the Brotherhood's side," agreed one pro-government supporter, Ali Abdel Samer, a shopkeeper.