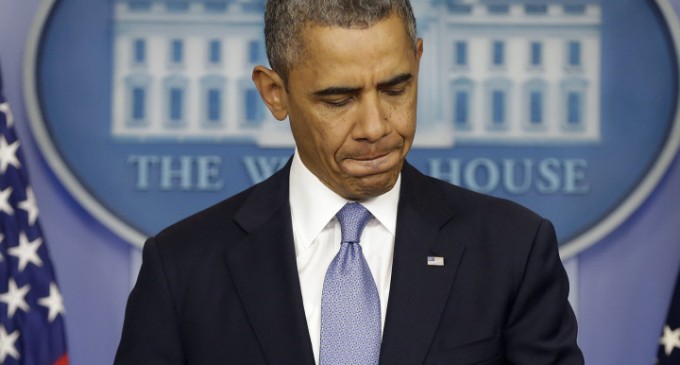 Two retired U.S. generals, Army Gen. Paul E. Vallely and Air Force Brig. Gen. Charles Jones, are creating a citizens' commission to scrutinize Obama administration actions on national security and economic issues called "The Americans Project".
Although it's great to see someone doing something about Obama destroying our Constitution and our country, we just need to go straight for impeachment!
Obama has committed so many crimes, what is there to 'watch' anymore?
Gen. Vallely and Brig. Gen. Jones, we applaud your efforts, but please, this rampant criminal has already committed blatant against our country.
Rally for a peaceful impeachment initiative and America will stand you!
WASHINGTON – After one of them called for the "forced resignations" of President Obama and congressional leaders in response to multiple grievances, including the alleged political purge of hundreds of senior military officers, two retired U.S. generals are creating a citizens' commission to scrutinize Obama administration actions on national security and economic issues.

"America's Provisional Leadership Council" will look at major concerns, as outlined by Army Gen. Paul E. Vallely and Air Force Brig. Gen. Charles Jones, in an eight-point paper titled "The Americans Project."

Vallely told WND he sees The Americans Project as a "citizens' commission" of prominent Americans to provide advice to legislative and executive branches of government.

America's leaders, he said, will be "held to high standards of performance to solve the nation's problems of governing. We will scrutinize and provide guidance to federally elected officials on behalf of the citizens."

The Americans Project, Vallely added, is a "movement, not a new party necessarily. We want candidates to run as Americans first before being a Democrat, Republican or Independent."

Vallely, who today is chairman of the organization Stand Up America, served as the deputy commanding general of Pacific Command.

Jones, who is vice chairman of The Americans Project of Stand Up America, held numerous Air Force command positions including a tactical fighter wing, a strategic airlift wing and a special operations group.

In calling for the forced resignations of Obama and the leadership of Congress, Vallely outlined suggestions for nationwide rallies and said a peaceful "civil uprising is still not out of question."

The current crop of leaders, he said, must face a "demand resignation" process, which he explained requires massive grassroots protests and social networking which he envisions can be undertaken through his organization. And example of a "forced resignation," he said, was that of President Richard Nixon.

"Our federal government continues down the path of destroying America," Vallely said. "Americans must now stand up and put America back on the right track."

Workable solution

Vallely and Jones in their paper say "The Americans" leadership has developed workable solutions to "help solve and fix what has without question stunted our nation's ability to clearly, legally and peacefully function as a constitutional republic."

"Honest, selfless political leadership is the first key to America's economic and debt recovery and secure future for all citizens and their children," they say. "That means voters must band together and vote for positive 'America first' leadership rather than self-serving greed and corruption within the two major political parties that have for decades and are now rapidly tearing the United States of America apart."

In their paper, Vallely and Jones call for adherence to the Constitution with strict congressional oversight of all executive actions.

In an apparent reference to the cutback in overall U.S. military readiness, they call for a strong national defense but stipulate that "in no way" would the U.S. military ever be used against U.S. citizens, a reference to a growing concern among many Americans.

The paper decried the historic $17 trillion government debt, concerns over continued unemployment and excessive tax rates on businesses and citizens.

Their solutions? Vallely and Jones call for abolishing the Federal Reserve and the Internal Revenue Service system, the intended result of which would be that "all political plundering of the peoples' wealth via taxation will be stopped."

In abolishing the Federal Reserve System, all U.S. government financial and economic functions would be turned back to the U.S. Treasury.

The IRS would be immediately abolished and replaced by a sales tax on specified items for partial financing of the U.S. government.

The retired generals condemned the illegal alien "invasion," which they said would be stopped with a secured border double fence, calling for penalties on employers who hire illegal aliens.

"There will be absolutely no jobs, no social services, no welfare nor medical services allowed to be provided to illegal alien invaders," they say, with the exception of emergency medical care only until the illegals can be deported.

"American jobs are for U.S. citizens, returning military veterans, part-time high school students and the elderly," they said. "When U.S. employers cannot find workers and can fully justify seeking foreign workers, government permission will be granted for hiring temporary foreign workers."